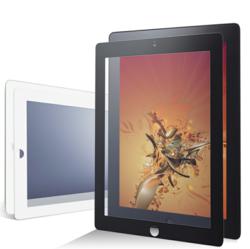 I simply lined the screen protector up with the home button, laid it down and rubbed it. There wasn't one bubble and I did it perfectly the very first time!
Twin Cities, MN (PRWEB) September 29, 2011
No need to take 'How to Apply a Screen Protector, 101' to learn how to apply GreatShield's new EZseal. It is so easy to apply to your iPad 2 screen that a complete novice applied it quickly and with great success. The secret is that there is no tape used on the EZseal frame like all others on the market today. A special Japanese adhesive on the frame allows the screen protector to be removed and applied as many times as needed.
GreatShield's EZseal is made from a remarkable material called PET TiN (Titanium Nitride) that provides the ultimate protection for the iPad 2 screen from dust and scratches. It is so strong that it is completely 'wash and wear' – take the EZseal off, wash it with water, dry it with a cloth and reapply it as many times as needed. EZseal is only 0.188 mm thick yet is strong enough to protect iPad 2 screen from the harshest abuse while still providing the user with pinpoint accuracy.
The matte finish banishes any glare under natural to fluorescent light on the iPad 2 screen and enables its user to see the screen clearly from any angle with a 93% see through visibility. GreatShield's EZseal provides a seamless transition from frame to screen as there is only 0.02 mm difference between the middle area and the frame. No static electricity effect with this screen protector.
The EZseal are available in White & Black can can be purchase through major online retailer store such as Amazon.com , Buy.com, Ebay.com, Newegg.com.
###