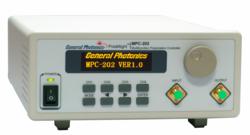 The MPC-202 fulfills coherent receiver developers' need for a high speed, quasi-uniform rate polarization scrambler.
Geneva, Switzerland (PRWEB) September 19, 2011
General Photonics, a market leader in polarization control and polarization measurement, announced today the completion of a polarization controller/scrambler specifically tailored to the needs of coherent receiver testing. The MPC-202 Advanced Multifunction Polarization Controller combines the versatility and ease of use of General Photonics' popular polarization control instruments with new high speed scrambling and polarization waveform generation capabilities. It can perform continuous-trace polarization scrambling with either a quasi-uniform state of polarization (SOP) variation rate for SOP tracking speed testing or a random SOP variation rate that follows a Rayleigh distribution for other SOP variation tests. It can also perform high speed random state or square wave SOP modulation for SOP recovery time tests. Compared with LiNbO3 - based scramblers, this fiber squeezer based instrument has the advantages of extremely low insertion loss, activation loss, and PDL, in addition to lower price.
"We have seen a rising demand from customers who are working with coherent detection systems for high scrambling speed of more than 300 krad/s, preferably at a uniform scrambling rate." said Steve Yao, President of General Photonics. "We believe that this new instrument will satisfy all of these requirements and more."
In addition to its enhanced polarization scrambling functions, the MPC-202 offers sine, square, and triangle-wave polarization modulation functions with tunable speed and amplitude; triggered random-state generation; and a manual polarization control function that allows the user to fine-tune the output polarization state to any position on the Poincaré Sphere.
Summary of Technical Specifications
The MPC-202 offers continuous-trace polarization scrambling with a quasi-uniform SOP variation rate of up to 360krad/s, continuous-trace polarization scrambling with a random variation rate that follows a Rayleigh distribution at a nominal rate of up to 12k rad/s, and discrete random-state generation at a rate of up to 20k points/s. All polarization scrambling modes have uniform sphere coverage. The SOP modulation mode generates sine, square, or triangle polarization waveforms with a frequency of up to 10 kHz and 0-2π amplitude variation. The instrument has extremely low insertion loss, activation loss, and PDL of less than 0.05 dB.
Please contact General Photonics for complete preliminary specifications.
Pricing and Availability
The MPC-202 advanced multifunction polarization controller will be available at the end of the year. Interested parties may contact General Photonics direct or a General Photonics channel partner near them for additional details on availability and pricing.
About General Photonics
Founded in 1995, General Photonics is an award-winning world leader in the design and development of advanced optical polarization instruments; timing management instruments, optical modules and optical components. Its products are used worldwide in applications such as fiber optic communications networks; test and measurement applications such as for coherent detection systems; fiber optic sensor systems; medical imaging equipment and other applications. General Photonics, a privately-held company, maintains its headquarters and a manufacturing facility in Chino, Calif. An Engineering Center of Excellence and technical support team is located in Beijing, China. The company also uses a worldwide network of sales distributors and representatives. More information can be found at http://www.generalphotonics.com.
Note: references to corporate, product or other names may be trademarks or registered trademarks of their respective owners.
###