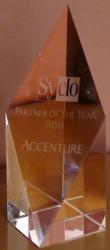 In the last 12 months, we've worked with Accenture on many projects all over the world, including large-scale implementations at Alliander, Bord Gais, AxTel and Maersk, and are in the process of creating solutions for Atmos Energy
Hoffman Estates, IL (PRWEB) September 20, 2011
Syclo, a leading enterprise and consumer mobile solutions provider, named Accenture the winner of its annual Partner of the Year award. Accenture earned this nomination for its extensive industry expertise pertaining to using Syclo's mobile applications for SAP ERP, Maximo EAM, and utilities field force automation to create its own powerful industry solutions – and for its unmatched ability to execute on global, complex mobility deployments.
"In the last 12 months, we've worked with Accenture on many projects all over the world, including large-scale implementations at Alliander, Bord Gais, AxTel and Maersk, and are in the process of creating solutions for Atmos Energy" said Rich Padula, Syclo's president and CEO. "Accenture has been a phenomenal partner to work with on every deployment, as their team time and again demonstrated mastery of Syclo technology and commitment to our relationship. We are extremely excited about Accenture's mobile capabilities in the resources sector and beyond, and look forward to our continuing collaboration in the future."
"Accenture is very pleased to be recognized by Syclo as their Partner of the Year," according to Bill Ernzen, Global Lead - Work, Field and Resource Management at Accenture. "As Utilities continue to evolve the needs of their mobile workforce, the tight coordination of integrator and software provider is a key factor for reducing risk, increasing speed to value and ensuring client satisfaction. Accenture and Syclo have collaborated closely to help Utility companies drive their mobility agendas, and we are excited to building on this in the future.
Award finalists Ascom and Engergy4U were also honored for their continued innovation and solid track record of delivering successful customer deployments. Ascom, a long standing Syclo partner, is an international provider of mission-critical communication solutions that has used Syclo technology to mobilize over 5,000 Remedy users to date. Energy4U, a Syclo Partner Program member since 2009, has used its specialized knowledge of the utilities market and the SAP Business Suite to empower many of its customers with Syclo's mobility solutions.
About Syclo
Since 1995, Syclo has worked with over 750 organizations to create, deploy and manage a variety of business and consumer mobile applications. Syclo's software extends corporate systems and databases to a wide range of mobile devices and user types, helping companies cut costs, increase productivity and make better decisions across the board. Together, Syclo's Agentry platform and prebuilt SMART Mobile Suite applications present a flexible, reliable and cost-effective framework for enabling the mobile enterprise. For more information, visit http://www.syclo.com or email info(at)syclo(dot)com
Syclo and Agentry is a trademark of Syclo LLC. All other trademarks are property of their respective holders. Copyright © 2011 Syclo LLC. All rights reserved. For more information, contact pr(at)syclo(dot)com.
###