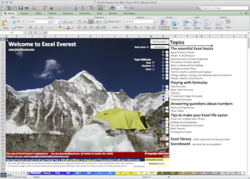 Sorry Mac users! We know it has been a long wait, but Excel Everest is finally available for your computer.
San Francisco, CA (PRWEB) September 20, 2011
Before today, hundreds of people who visited ExcelEverest.com and didn't buy made this choice because there was no Mac version of our Excel training tutorial. Talk about bad business sense on our part.
Well, sorry for the wait Mac users, but Excel Everest is finally available for your computer, bringing our 41+ interactive topics, 155+ exercises, and 87+ videos to a whole new audience.
Excel Everest is an interactive, fun, and engaging Excel training course that's used by Google, Pepperdine University, and others to teach the all-important Microsoft Excel in a brand new and interactive way.
We're happy to announce that the much-requested Mac version is finally available to individuals and corporations. Every time a potential customer would email us asking for it, it'd sting a little bit. Given the many differences between Mac and Windows Excel, we ran into a slew of problems creating our Mac version, but we've solved them all and it's now complete. Mac users can now enjoy Excel training through Excel Everest.
The cost of Excel Everest is $34.95. We provide discounts and site licenses to businesses and academic institutions. Email sales(at)exceleverest(dot)com or visit ExcelEverest.com to see if we might be of help to you or your organization.
About Excel Everest
Founded in 2010, Excel Everest aim to change the way people learn Microsoft Excel. Think of what we've created as a textbook about Excel but written inside Excel itself. Our Excel training covers 41+ topics, has 155+ of interactive (and automatically graded) exercises, and has 87+ embedded videos to help when things get difficult.
###