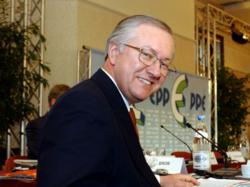 (PRWEB) September 16, 2011
In a candid, taped interview with Democracy4us.org, Boris Tarasuk, four times Ukraine's Foreign Minister and current EU envoy, as well as the leader of the democratic opposition party, United Front, says that Yulia Tymoshenko is innocent. In the interview, he maintains that President Yuschenko gave her a direct command in 2009 to help negotiate a gas deal with Vladimir Putin, after re-calling Oleg Dubyna, former president of Ukrainian gas company Naftogaz, from the bargaining process taking place in Moscow. Mrs. Tymoshenko settled on a price which then equaled market value, in part by alleviating a middle-man brokerage company called RosUkenergo, partially owned by Ukranian oligarch and financier of both presidents Yuschenko and Yanukoych, Dmitro Firtash, which, Tarasuk claims, provided no value in exchange for the ill-defined services that it offered. According to Tarasuk, the Ukrainian constitution stipulates that unless she herself received personal financial gain from the transaction, which she has not been accused of, she is immune to prosecution as a politician, for this and all actions which she undertook on behalf of the state, under the orders of the President or the government.
Moreover, he points out that in 2006, Yuschenko himself, on behalf of oligarch interests, broke a prior contract with Moscow which had established the price of gas at $50.00 (fifty USD) a barrel until 2013, allowing for the price to be raised to $95,00 (ninety-five USD) a barrel, so as the oligarchs could benefit more substantially. As a concrete example of the way in which politicians help the oligarchs, he points back to Firtash, who has seen his wealth grow, in a down economy, by over 100 percent since Yanukovych came to power in 2009
Tarasuk says that the trial against Tymoshenko has little to do with the price of gas set by the agreement, which the prosecution maintains is prohibitive for Ukraine, but about Yanukovych seeking revenge for the role that Tymoshenko played in overturning the 2004 elections, which he was accused of rigging and Firtash looking to punish her for eliminating RosUkenergo from the 2009 deal. Likewise, says Tarasuk, the case against Yuri Lutsenko, former Minister of Internal Affairs and member of Tymoshenko's government, is also being prosecuted out of revenge for placing a current deputy PM under arrest for a short period of time while he is in power and for initially blocking Yanukovych's election bids because of the President's criminal history.
Tarasuk vehemently defends Tymoshenko as the only honest leader to date in the country and also the real winner of the 2009 elections, which he claims were also rigged. He says that former president Yuschenko used her, and her supporters, to come to power during the Orange Revolution, and then, purposefully polarized her government by putting in place ministers chosen by himself who would block the initiatives she set out, thus making her seem like a lame duck. Tarasuk says that this was done on behalf of Yuschenko's oligarch supporters, who also finance Yanukovych, and fear Tymoshenko's crack-downs on corruption and her attempts to rid the country of its murky, middle-men brokerage companies, like RosUkenergo, which the oligarchs own. He claims that Tymoshenko was purposefully kept on public display and sacrificed for all the promises not upheld by Yuschenko as well for the economic recession of 2008, which was in part of a worldwide recession that begun in the US.
Tarasuk says that Tymoshenko was loathe to speak out against Yuschenko in the wake of the revolution, as she felt it would devoid it of its meaning; she hoped that she could quietly rectify the situation internally. Instead, Yuschenko continued to split up the democratic opposition purposefully. Tarasuk says that leaders of the various factions had long planned to come together, as Yanukovych's Party of the Regions amassed power, and that they also had planned to sacrifice Tymoshenko in this process, seeing her as a liability. Only when she was arrested, and public interest aroused, according to Tarasuk, did the parties choose to align under her cause.
Since Yanukovych has come to power, he has, according to Tarasuk, overtly violated the Ukrainian constitution, in order to pay back Russia for financing his election bids, allowing Russian troops to remain operative in Ukraine until 2042 and giving control over many state industries, from gas to aviation, to Kremlin appointees.
Yanukovych has also cracked down severely on press freedoms, civil society, human rights, and rule of law, according to many local and international experts, including Czech President Vaclev Havel. When asked whether the West knew of the actions which it now condemns Yanukovych for from the beginning of his presidency, Tarasuk says that international leaders initially wanted to give him a chance. He says they also felt that, after years of bickering amongst parties, Yanukovych had brought a certain quiet to Ukraine. "I said, 'So what?'. There is quiet in a cemetery.'"
Tarasuk is glad that the West finally came around, but feels as though it must take much more decisive and strong action if Ukraine is to survive as a democracy.
###