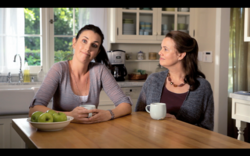 We're tapping into the newest channels and trends to attract high-quality new patients on a regular basis...
Los Angeles, CA (PRWEB) September 19, 2011
1-800-DENTIST®, the nation's leading dental marketing company, is now shining an even brighter spotlight on oral health. In addition to increasing advertising spending to a record $50 million, the iconic brand is diversifying its approach to include more media and attracting more new patients than ever before.
"It wasn't that long ago that the only way to advertise dentistry was with a sign in the window," said Fred Joyal, 1-800-DENTIST's founder. "Today, we're showing up in every place consumers spend time – social media, mobile phones, hit TV shows, search engines and websites. We want to be a constant reminder of the importance of dentistry and make it impossible for Americans to ignore their oral health."
As part of this media blitz, 1-800-DENTIST® has partnered with an external creative team to produce an all-new TV commercial campaign. Secret Weapon Marketing (the award-winning agency behind the well-known Jack in the Box commercials and formed by the creator of the Energizer Bunny) created three new spots, which began airing on major networks on September 6th.
1-800-DENTIST® has also added innovative appearances on hit shows like HBO's True Blood – where they provided tongue-in-cheek props for a vampire convention (including signs for "fang whitening" and "discounts for vampires over 1,000 years old"). The August 21 episode was watched by over 5 million viewers – a new series high.
Social media has also been a major focus. The company now gives web surfers the ability to find a dentist right on their Facebook page, and regularly interacts with them on both Facebook and Twitter. The recent True Blood appearance triggered a flurry of positive online threads from die-hard fans, including tweets from some of the official character accounts. In addition, 1-800-DENTIST® has tackled mobile marketing, partnering with the most reputable mobile affiliate experts and subsequently increasing mobile leads by over 700% in the last year alone.
"Keeping up with consumers is a full-time job," said Joyal. "We know our members want to keep their focus on patient care – so we're doing the marketing work for them, tapping into the newest channels and trends to attract high-quality new patients on a regular basis."
1-800-DENTIST® has been an icon in the dental marketing field for over two decades. No other company has the media resources and marketing expertise to attract the same volume and quality of patient leads. As a result of their advertising campaigns, an expected 8 million consumers will contact them this year to be matched with the right dentist.
About 1-800-DENTIST®
Founded in Los Angeles, California in 1986, 1-800-DENTIST® is the #1 lead generation company in dentistry. The company has matched over 7 million patients with member dentists through its 24/7 call center and via their websites: 1800dentist.com, dentalreferral.com and dentistry.com. Futuredontics, Inc., is the parent company of 1-800-DENTIST®, as well as Patient Activator®, each responsible for filling a different need in the marketing of a dental practice. For more information, visit http://www.1800dentist.com/for-dentists.
Contact: Sarah Swidron, 1-800-DENTIST®, 310-215-6524
###