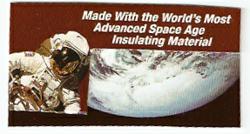 "For the first time in years my dad has warm hands. Thank you so much!"
Toms River, NJ (PRWEB) September 20, 2011
A recent invention by Originals By Weber is their new non-electric Weber Thermal Wrist & Ankle Wrap. (Pat. Pend.) It is made to relieve pain and increase comfort in the fingers and toes of football team player as well as those of other outdoor team players and their spectators.
When NASA needed an insulation material to keep astronauts warm, comfortable and safe when walking in space they searched far and wide before coming up with this special NASA (now a spin-off) insulation material. It is now recognized as the best, lightest, and lowest density solid insulation material known to exist in the world today. NASA developed this highly efficient kind of insulation material that makes possible the protection offered by Weber Thermal Wrist & Ankle Wraps.
How Wraps work:
When used in the Weber Thermal Wrist & Ankle Wraps the NASA insulation material is designed to maintain the temperature of the blood in wrists and and fingers at about 72-degrees (F). The insulation also aids in increasing the flow of warm blood as it moves through the wearer's wrists and ankles to help warm both the fingers and toes.
Benefits of use:
Wearing the Wraps can, over time, tend to "condition" the small veins and blood vessels to help increase the flow of warm blood, at about 72-degrees (F), to extremities such as fingers and toes. Temperature of the blood is controlled with these Wraps by the NASA designed thermal insulation material which tends to negate just about any kind of energy transfer: thermal, electrical or acoustic.
Durability:
Weber Thermal Wrist & Ankle Wraps are non-electric and re-usable. The insulation material never loses the ability to insulate. The insulation material is nested within a sleeve made of black Ripstop nylon which is quite tough and durable. Also, included with each Wrap is a washable liner that is easily removed, washed and then put back in place (using Velcro) In short, this washable felt liner is designed to keep the inside of the Wrap fresh and clean even when worn 24/7 for many months and years. The completely assembled Weber Thermal Wrist & Ankle Wraps are held in place on wrists or ankles with easily adjustable Velcro straps.
Size of Weber Thermal Wrist & Ankle Wraps:
Made with a covering of Ripstop nylon, for durability. Dimensions are: 9"long by 3-1/2" wide and approximately 3/16" thick. They are made in one size to fit men, women and children. They are available for immediate shipment from New Jersey. Made in America..
Feedback and customer comments:
When Weber as asked what kind of feedback and comments he get from his customers about the Weber Thermal Wrist & Ankle Wraps, he gave the following quotes from his customers:
"Thrilled with the purchase of wrist & ankle wraps."
"I have worn the heck out of the ankle and wrist wraps, they have helped with my circulation in both my hand and foot.?
"Item as described. Fast shipping. Highly recommend."
"Glad to have purchased this very unique & reusable wrist wrap."
"Seems to have helped with Raynauds quite a bit. Fast shipping. Thanks."
"For the first time in years my dad has warm hands. Thank you so much!"
"I actually am surprised at how well these work?"
"Fast shipping. As described. Would buy again. A+"
Specifications:
Wraps use NASA developed insulation material for use in space. It is an ultra-thin, highly efficient insulation product that helps to provide TLC (Temperature Level Control) of the blood. The increased flow of this warm blood helps to reduce the annoying pain and discomfort associated with constant suffering caused by cold fingers and toes. The size of the Weber Thermal Wrist & Ankle Wraps is: 9" long by 3-1/2" wide by approximately 3/16" thick. Wraps are made in America. The price of the Weber Thermal Wrist & Ankle Wraps is $29.95/pair (2 Wraps) (s/h is $3.00). Satisfaction is guaranteed or return Wraps for money back. For more information you are cordially invited to call: 1-877-309-8382, 732-864-0353 or visit:
Website to see more details or to place your order:
http://www.yrret.stirsite.com/no_cold_fingers.html
A Video can be seen below or go to http://www.yrret.stirsite.com/no_cold_fingers.html
###