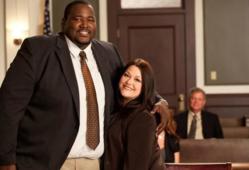 Hollywood, California (PRWEB) September 16, 2011
"Blindside" actor Quinton Aaron will appear on the hit television show "Drop Dead Diva." Quinton's episode on the Lifetime Network will air Sunday September 18th, 2011 at 9/8c.
Quinton's character is Jacob Campbell. Jacob is a three year Law student who's wife is trampled in a bridal shop. Legendary actress Valarie Harper and GRAMMY award winning vocalist Brandy will also star on this episode.
Drop Dead Diva is an American legal comedy-drama/fantasy television series that debuted on Lifetime on July 12, 2009. The hour-long series, which was created by Josh Berman, is produced by Sony Pictures Television. The series stars Brooke Elliott as Jane, a plus size woman whose body is inhabited by the soul of a fashion model. This the the third season of the series.
About Quinton Aaron
Quinton Aaron starred in his first lead role as Michael Oher alongside Sandra Bullock and Tim McGraw in The Blind Side, which was released on November 20, 2009. Quinton Aaron is represented by celebrity consultant Raffles van Exel/Raffles Entertainment and is currently working on television and film projects for 2012.
# # #