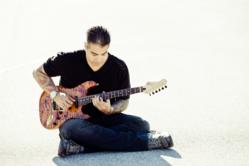 I cut thru all the confusion of approaching the guitar. I give you the tools you need to have fun and start jamming right away with songs you want to play, while at the same time teaching you the fundamental principles of the instrument.
Fort Lauderdale, Florida (PRWEB) September 19, 2011
Rock & blues guitarist Dyce Kimura is an acclaimed guitar teacher in Fort Lauderdale. A bona-fide, full-time guitar instructor, he has risen straight to the top of Broward's competitive scene as a recording session pro and top-flight guitar instructor. For years, Dyce has been offering guitar lessons in Fort Lauderdale to everyone from beginners and children—to intermediate players and semi-pros. Now, through the power of the internet, Dyce is reaching students from across the globe directly thru YouTube.
Dyce's lessons on YouTube are wildly-popular for a reason: a versatile, accomplished guitarist, Dyce effortlessly shares his amazing gift for the guitar to any student, located anywhere in the world. His innovative, unique approach to the guitar is focused on students—allowing them to reach (and exceed) their goals in the comfort of their own home or studio. His high-quality, well thought-out lessons have something for everyone, including learning songs, improvising, scales, songwriting, ear-training, learning songs by ear, reading music (charts, tabs, sheet music)—and more!
Yet, Dyce has no plans to slow down anytime soon. He will be soon be launching a full video series covering all of the above topics—and more—for both download and DVD. These videos, like Dyce's YouTube lessons, slice thru all the confusion that comes with approaching the guitar. Dyce's warm, personable teaching provides aspiring guitarists with all the tools they need to have fun and start jamming right away with songs that they want to play—all while learning the fundamentals of guitar and music, the right way.
Just a few years ago, it would have been necessary to make a trip to Fort Lauderdale to receive guitar lessons from renowned pro Dyce Kimura. Now, thanks to YouTube, Dyce's effective, powerful guitar lessons are available to students from across the globe.
For more information visit http://www.dycekimura.com
Visit Dyce's YouTube Channel
###