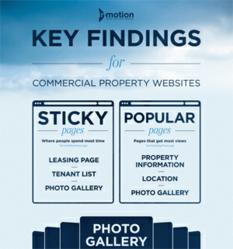 Boston, MA (PRWEB) September 19, 2011
These days it isn't uncommon for consumers and even businesses to turn to the Web for real estate information before buying or leasing. Having a Web presence isn't enough when marketing properties though. According to data released by commercial real estate marketing firm, inMotion Real Estate Media, the types of information available on a real estate website can influence visitor behavior. The infographic highlighting this data, Key Findings for Commercial Property Websites, can be accessed through the company's website.
"Commercial real estate marketing data can help brokers, developers and property owners make better Web development decisions," said inMotion Real Estate Media Founder, Bob Samii. "Key Findings for Commercial Property Websites is based on five years of website traffic data from our commercial real estate clients. By releasing this data, we hope to provide valuable insight into successful commercial real estate marketing strategies on the Web."
Key Findings for Commercial Property Websites is an infographic sharing:

The most common "sticky" pages on commercial real estate sites -- where visitors spend the most time;
The most popular pages on commercial real estate websites, receiving the most pageviews;
The average amount of time visitors spend viewing each image in a real estate photo gallery;
How many visitors exit a site from leasing pages featuring floor plans versus those without.
This infographic may be viewed or republished on other websites from the following destination: http://www.inmotionrealestate.com/company/property-website-infographic.html.
About inMotion Real Estate Media
Originally launched in 2006, inMotion Real Estate Media is now the full-service real estate marketing firm of choice to some of the nation's top commercial developers, brokers and investment firms. The firm provides marketing solutions for high-profile commercial real estate projects, from Web development and design to video production and online marketing.
For more information about inMotion Real Estate Media or how the data presented might influence commercial real estate marketing and Web development, please visit http://www.inMotionRealEstate.com or contact Bob Samii at 800-831-9256.
###