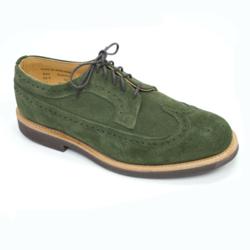 London (PRWEB UK) 19 September 2011
Ready for the autumn/winter 2011/12 season, online fashion retailers Glass Boutique are proud to exclusively introduce Mark McNairy to their range of men's and women's fashion footwear.
Glass Boutique are an independent purveyor of both women's clothing and men's designer fashion, presenting forward-thinking labels that creatively express an exciting mix of high quality, unique concepts and a up-to-the-minute trends. Glass Boutique like to work alongside their brands to bring original fashion to their loyal cutting-edge audience and as such, had a strong influence in the designs and materials used for the exclusive Mark McNairy items available through their online store.
Mark McNairy is an American designer that has a self-titled footwear collection and in collaboration with fashion specialists, Glass Boutique, is offering 3 exclusive pieces to the UK. The former creative director for J. Press; his 'Mark McNairy New Amsterdam' collection consists of two fully leather-lined ranges that strike a traditional yet contemporary balance with an obvious quality of materials and finish. The 'Red Brick Soul' range sports his trademark brick coloured sole on relaxed styles while the 'New England Collection' provides a more formal range of English and American inspired designs. The exclusive Glass Boutique designs include the intricate detailing, waxed lace and brown sole of the Mark McNairy Long Wing Suede Brogue in Loden Green or the contrasting red brick sole of the Mark McNairy Plain Derby Suede Shoe in both Navy and Dirty Buck for men. In women's footwear, you'll find the classic 100% suede Mark McNairy Chelsea Boot in Black in Black with matching tonal sole.
This blend of women's footwear and men's footwear styles works with ease alongside Glass Boutique's other progressive labels in men's and women's fashion such as American workwear inspired Penfield, the Danish stylings of Libertine-Libertine, the Parisian chic of Sessun and forward-thinking British labels YMC (You Must Create), Second Son and Universal Works. Mark McNairy also sits alongside other dynamic footwear brands in the Glass Boutique family of Pointer, Clae, Won Hundred and Swedish Hasbeens.
A perfect addition to their diverse fashion footwear range and hand-picked labels; Glass Boutique stated "We've been a fan of Mark McNairy footwear for a while now and believe this is a brand that brings back sophisticated footwear to fashion conscious individuals".
###