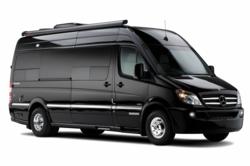 The Airstream is a great choice for our customers. It reflects the luxury, quality and innovation they've come to expect in a motorcoach.
Miami, Oklahoma (PRWEB) September 20, 2011
Two iconic American RV brands–Newell Coach and Airstream–have joined forces. The two companies jointly announced that Newell is now an authorized dealer of the Airstream Interstate 3500 Class B touring motorcoach for customers in the South-Central U.S. Newell is also offering the coach to Newell customers who want to use the Airstream as an adjunct to their existing Newell or to downsize to a smaller motorcoach.
"Airstream is excited to join forces with Newell," said Larry Huttle, chairman of Airstream. "The two brands both represent unique and successful chapters in the rich history of American recreational vehicles."
WHY AIRSTREAM?
"For some time, our customers have been asking for advice and help buying a Class B RV that they could use as a tow vehicle or as an alternative to their larger Newell motorcoach," said Newell Coach president, Karl Blade. "There are many brands to choose from, but our customers repeatedly mention Airstream as their preference. Thanks to our new association with Airstream, we can respond directly to those customers' requests."
MERCEDES-BENZ COMFORT AND PERFORMANCE
The Airstream Interstate 3500 provides the quality, comfort and performance of a Mercedes-Benz platform in a Class B touring vehicle. It is powered by a 3.0-liter Mercedes-Benz V6 diesel engine and produces 188 horsepower and 325 lb.-ft. of torque. Even though it gets 30-percent better fuel economy than other comparable gasoline engines, it is able to tow 6,900 pounds.
MORE FLEXIBILITY
"The Interstate gives Newell owners more flexibility," said Blade. "For example, a Newell with an Interstate in tow can be driven to a convenient location outside a national or state park. The Interstate can then be driven into the park, providing convenient overnight facilities for a day-or-two stay within the park. In addition, some long-time Newell owners would like to downsize to a coach that is compact but still offers some of the comfort and convenience they're used to," Blade continued. "The Airstream is a great choice for our customers. It reflects the luxury, quality and innovation they've come to expect in a motorcoach."
FOR MORE INFORMATION, email Ian Drake at iand(at)newellcoach(dot)com, or call Newell toll-free:1-888-363 9355.
ABOUT NEWELL COACH
Newell Coach Corporation is the leading designer and manufacturer of custom luxury motorcoaches. Newell coaches feature state-of-the-art design and materials, custom furnishings and appliances, and full-time customer service and support. Based in Miami, Oklahoma, Newell has been manufacturing custom coaches since 1967.
For more information, email sales(at)newellcoach(dot)com, or call us toll-free at:1-888-363-9355.
###