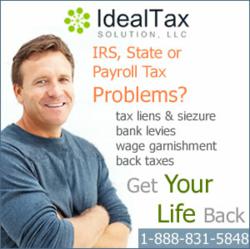 Ideal Tax Solution prides itself on a high client satisfaction rate and has proudly earned an A Rating from the Better Business Bureau.
Costa Mesa, CA (PRWEB) September 18, 2011
In the last few years, the amount of individuals and businesses with unfiled and unpaid back taxes has swelled to over 20 million people. Congress has increased the IRS' collection and enforcement budget to over $13 billion, for increased audits and investigations. With tougher crackdowns on collections of unpaid back taxes, it is crucial that Americans know their options for resolving their current tax problems to avoid or remove bank levies, wage garnishment and tax liens.
"We are receiving a substantial increase in phone calls and emails requesting consultations and evaluations in hopes of qualifying for tax relief options. We have hired more staff to service the growing amount of new clients with pending tax problems and small businesses account for a significant portion of tax relief filing due to payroll tax issues. It's our goal to educate taxpayers and small business owners about their rights and options regarding back taxes, IRS wage garnishments, and IRS bank levies", said Seth Schiller, VP of Marketing of Ideal Tax Solution.
Ideal Tax Solutions employs an expert team of Tax Attorneys, CPAs and Enrolled Agents that provide professional and effective negotiation experience to deal with the IRS on their client's behalf in seeking tax relief. Ideal Tax Solution prides itself on a high client satisfaction rate in cases where taxpayers qualified for tax settlements and saved a significant amount of dollars in back taxes, penalties and interest. Ideal Tax Solutions has a Better Business Bureau Rating of A-, earned through their outstanding customer support and providing exceptional tax relief services.
Ideal Tax Solution offers a free evaluation consultation so that people can get the information they need to make an informed decision in resolving their tax problems. Ideal Tax Solution has helped thousands of people find tax relief and remove the worry of owing money to the government. Persons owing back taxes or small business owners can visit their website to request a free consultation or call the toll free number (1-888-552-6070) to speak with client services immediately to see if they qualify for tax relief programs.
About the company: Ideal Tax Solution LLC is located in Costa Mesa, CA and provides tax negotiation services, preparation and is a collection defense specialist. Their Tax Attorneys, IRS Enrolled Agents, CPA's, Senior Tax Consultants have over 55 years of combined experience working to help American tax payers with the IRS and State Tax Agencies.
###