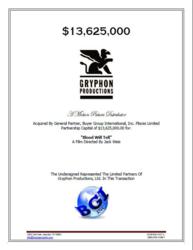 Dallas, TX (PRWEB) September 19, 2011
Buyer Group International, Inc., (BYRG.PK) September 19, 2011 following placement of $127,500 in Class C Shares to limited partners receives Confidential Term Sheet committing to purchase interest for $13,500,000 cash to finalize preproduction of Blood Will Tell, a major motion picture for worldwide theatrical release. Funds will be invested in the film, a $15 million budgeted production, yet, BYRG will reserve some funds for share buybacks. Interest in the film is backed by worldwide receipts from theatrical, DVD and BluRay rentals and sales.
Successful closing of all current commitments will produce a total of approximately $13,625,000 minus cost of closing expected at 7%. In addition to the share buybacks, BYRG expects to offer a dividend to shareholders of 10-20% in the near future, record date to be announced soon based upon upcoming projects. Information may be found at http://www.buyergroupint.com as it is released to the public.
New Capital Project: Coming online this quarter is a joint venture in British Columbia on a past producing placer claim of Zinc, Tungsten, Gold, Silver, Lead, Copper, and other precious metals with market values in the hundred millions and formerly explored by Newmont Exploration Company of Canada. BYRG has signed an LOI for 97% of the interest in the property expected to go into production by Spring 2012 with 10-20% interest being allocated for BYRG shareholders of record.
News for BYRG is located at http://www.buyergroupint.com/news.html
Safe Harbor Statement - This release includes forward-looking statements within the meaning of Section 27A & 27E of the Securities Act of 1933, 1934. Statements herein that are not historical facts are deemed forward-looking statements based upon management's current expectations. Investors are cautioned that forward-looking statements are inherently uncertain and subject to risks and uncertainties that could cause actual results to differ materially from those set forth and management undertakes no obligation to update or revise such statements. Actual performance results may differ materially from those suggested herein due to uncertainties including, without limitation, ability to obtain financing, regulatory and shareholder approval, and the ability to attract or retain key management personnel.
###