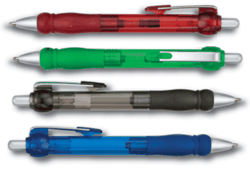 "We shop at "VendoDirect.com because we know that their pens are going to write every single time. Sure there are many cheap pens out there, but none of them compare to Vendo Direct's." ~M. Hauss, Check Cashing Store Manager.
Hollywood, Florida (PRWEB) September 19, 2011
"We are pleased to introduce a new style of click action retractable gel pens", announced company spokesperson Michael Klein. "This pen features a super smooth flowing ink cartridge that is guaranteed to gently glide across the paper with every stroke. We find that there is a certain level of stigma in the promotional pen business against cheap pens, which typically have a bad reputation for under performance. Especially with gel pens, whom are delivered to the clients dried out, or with 50% less ink than at the time of manufacture. We keep our inventory fresh and turn it over monthly to ensure our clients are getting the best quality gel pen for the lowest possible price."
Klein boasted, "This is a special personalized pen, with a special gel ink cartridge. It contains inks that are blended in a certain manner which allows for a lower viscosity level, which in turn means less friction resistance and a more fluid, better performing pen on almost any writing surface. Many regular promotional pens have problems writing on certain kinds of paper. For Example, thermal paper, carbon-less paper, receipt paper, etc. In certain applications where grease or oils are involved, such as a mechanical shop, brake shop, oil change stations, general automotive repair shops, fish markets, or marine environments, all of these specialized places, have specialized problems and the typical personalized promotional pens, just won't work correctly perform for these businesses. Our click action retractable gel pens have the right sodium content and a specifically low viscosity level that allows them to perform well on almost any writing surface."
Klein, then sardonically smirked and said, "This pen pretty much writes on everything normal. If you have a business that uses specialized paper, or are in the restaurant business that use's carbon-less paper, this is a great low cost pen that your clients can sign their checks with. And at .59 cents each, you don't mind if they take the pen home either. I can't think of any other personalized pens company that offers a .59 cent gel pen. Especially one that will write on almost anything every time, it's simply the best deal out there on a custom printed gel pen."
The Click Action Retractable Gel Pen features a 1.75" inch wide x ¾" inch tall imprint area and it best printed with a white or silver imprint. If has a soft comfort gripper and writes in black gel ink, the pen is available in your choice of four different barrel colors. For more information, go to http://www.vendodirect.com
###