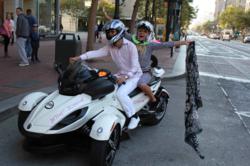 San Francisco, CA (PRWEB) September 19, 2011
Betsey Johnson had a warm welcoming to San Francisco on a beautiful sunny Saturday afternoon with an overwhelming crowd at her new boutique on 33 Grant Avenue. Hundreds of people lined up early in front of her boutique to be a part of the history of her grand opening.
The designer relocated her San Francisco store to one twice the size Saturday. Johnson jetted out to the West Coast to personally hand-paint, airbrush, and glitter one of her many signature boutiques.
The pinnacle of the evening was when Betsey said farewell to her fans and friends and departed in style from her boutique on a custom Can Am Spyder complete with the Betsey Johnson logo provided by Spyder-Rentals.com.
David Chu, the owner/ CEO of Spyder-Rentals.com personally drove Betsey to an undisclosed location escaping throng of people chasing her and the paparazzi.
The Can Am Spyder that Betsey was riding on was personally signed by her and reads "SAN FRAN! You Rock! RIDE ON! + ON! XoX BETSEY". During Betsey's ride, Spyder-Rentals.com also discussed the idea of raffling off the Can Am Spyder at a future date in which part of the proceeds from the Spyder would go towards a charity of her choice.
Spyder-Rentals.com would like to thank Joshua Lopez, Director of Retail Systems, from Betsey Johnson IT in letting Spyder-Rentals.com be a part of this memorable event.
About Spyder-Rentals.com
Spyder-Rentals.com is a company that started 3 ½ years ago and has been catering to corporate clients, celebrities, movie production studios, as well as tourists from around the world who come to experience the Can Am Spyder. No motorcycle is needed in the state of California. This unique vehicle has appeared in: Transformers 2, CSI Miami, Super Dave Osborne's Spike-Tacular, the sitcom Friends With Benefits, & Operation Repo. David Chu is a young entrepreneur and has worked the corporate world for IBM for six years but was part of the massive layoffs in 2008 before starting his own business with just one Spyder.
Spyder-Rentals.com serves several locations: San Francisco, Los Angeles, San Diego, Irvine, and Las Vegas and has partnerships in Fort Lauderdale, Utah, Texas, Chicago, Washington DC, Australia, and Canada.
For more information on Spyder-Rentals.com, direct all inquiries to info(at)spyder-rentals(dot)com or call 877-518-1444 Ext 3 to reach corporate & promotional events division.
###