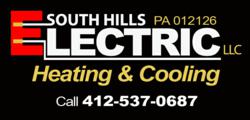 We have a commitment to our customers that we must maintain.
Pittsburgh, PA (PRWEB) September 19, 2011
South Hills Electric Heating Cooling, a Heating Repair Contractor in Pittsburgh, has updated their website to reflect the increasing needs of its customers. When asked what drove the business to update the company website the owner stated, "We have a commitment to our customers that we must maintain. We want to provide our customers the most informative website that we can. These updates reflect that commitment and our continued effort helps us to accomplish this."
South Hills Electric Heating Cooling maintains a cutting edge digital presence and the owners' words support this. When visiting the website the prospective customer is greeted with a warm, well structured and informative experience. The major changes are to the heating, air conditioning, and electrical services area sections which break down their services by community.
As evidenced by their name, South Hills Electric Heating Cooling started their Heating, Ventilation, and Air Conditioning business in the south hills of Pittsburgh in 1993. They have always taken calls outside their south hills service area and will continue to do so according to Pat Cray, the owner of South Hills Electric Heating Cooling.
South Hills Electric Heating Cooling is located at:
South Hills Electric Heating Cooling
930 Glass Run Rd
Pittsburgh, PA 15236
(412) 537-0687
and on the web at http://southhillselectricheatingcooling.com.
The South Hills Section of the website is impressive by breaking down and personalizing the user experience and we thought we'd provide you with the links and a rundown of this new section.
The owner has expressed the need to simplify the navigation structure and make it easier for mobile users to navigate to the right areas of interest. Included now is a map in grid form which allows the visitor to navigate by areas of the suburbs as well. These four sections define the heating section of the new navigation structure and are much easier for users of some devices:
North Pittsburgh Heating
South Pittsburgh Heating
East Pittsburgh Heating
West Pittsburgh Heating
"We look forward to seeing these changes help our business and our customer as that's what it's all about." said Pat. When asked about upcoming additions and new technologies coming to the site, Pat said, "You'll just have to check back with us and visit more often." We plan to do just that.
About South Hills Electric Heating Cooling
South Hills Electric Heating Cooling provides first class electrical, heating and air conditioning services to the greater Pittsburgh area. Since 1993, we have installed furnaces, boilers, air conditioners, electrical systems and hot water heaters. We are licensed, registered certified and insured to work in your home or business. We carry an A+ rating from the BBB and are registered with the PA Atty Gen License #PA012126.
###