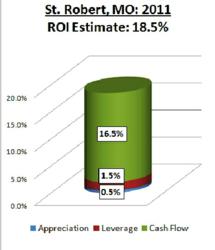 Over the long term, St. Robert will most likely regress to a trajectory of modest appreciation.
Irvine, CA (PRWEB) September 19, 2011
Jason Hartman, creator of the Complete Solution for Real Estate Investors™, recommends investors nationwide look at a small but profitable spot for their next real estate investment—St. Robert, Missouri. Located just outside of Fort Leonard Wood, St. Robert may seem like an unlikely market by standards of many income property investors. However, the intrinsic demographics do not incorporate the impact of its location directly adjacent to a major training base for the U.S. Army.
The cornerstone of value for income property investors in St. Robert is the large population of military tenants and support personnel. This produces superior performance for income property investors as the area's military are frequently stationed on one to two year assignments and typically prefer to rent instead of buy. Additionally, military personnel have steady employment from the government. This level of job security makes it less likely that tenants will stop paying rent. These factors combine to generate attractive rents relative to values in St. Robert and lower tenant turnover than experienced in many other market areas.
The return on investment (ROI) profile for St. Robert is heavily tilted toward cash flow with leveraged appreciation taking a back seat in the value equation. Hartman's models predict extremely small value movements for St. Robert during 2011 into next year. Even in the case of a market value contraction, income property investors can realize returns from cash flow that are more attractive than many other categories of investment.
"Over the long term, St. Robert will most likely regress to a trajectory of modest appreciation," said Jason Hartman, founder of Platinum Properties Investor Network, Inc. "This makes St. Robert less likely to produce large spurts of value escalation, but also less likely to generate large value disruptions that can collapse investment portfolios." Markets such as St. Robert are most appropriate for the portion of a portfolio tilted toward stable cash generation.
According to Trulia, there are currently 124 resale and new homes in Saint Robert, including four homes in the pre-foreclosure, auction, or bank-owned stages of the foreclosure process. The average listing price for homes for sale in Saint Robert, Missouri was $159,347 for the week ending September 10, which represents an increase of 1.6 percent or $2,454, compared to the prior week.
Forecast Methodology
Hartman's return-on-investment (ROI) predictions for each individual market are based on three fundamental components not considered by other forecasters. Income property, unlike other investments, is a multi-dimensional asset class. The first is component appreciation (or depreciation), which is based on a composite of forecasts from CNN Money, Fortune and Hartman's innovative Regression to Replacement Cost™ methodology. The second is leverage. The reason Jason Hartman's methodology separates appreciation from leverage is to pinpoint how much value is coming from the asset itself and how much is coming from financing benefits when acquiring the asset. The final component of the ROI predictions is cash flow where income property can be compared to bonds and dividend-paying stocks.
Hartman's model is the only one of its kind that includes a full ROI build. Most forecast reports begin and end their analysis with value appreciation or depreciation. Hartman and his team understand the full dynamics of return on investment and have chosen to create and report a complete ROI analysis for each of the targeted market areas.
About Jason Hartman
Jason Hartman, CRS, GRI, CSP, AIPIS, is America's foremost expert on long-term wealth creation through monetary policy and income property. He is the founder of Platinum Properties Investor Network, The Hartman Media Company, Open Door Auctions and The Jason Hartman Foundation. Jason is an accomplished entrepreneur, public speaker, media personality and author of 11 books.
Jason's Complete Solution for Real Estate Investors™ is a comprehensive system providing education, research, resources and technology for income property investment. His highly sought after educational events, speaking engagements and his acclaimed The Creating Wealth Show inspire and empower hundreds of thousands of people in 26 countries worldwide. For information, call 714-820-4200 or visit Jason Hartman online.
###