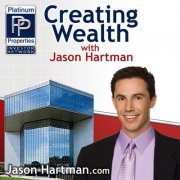 Irvine, CA (PRWEB) September 19, 2011
Jason Hartman, host of The Creating Wealth Show, features New York Times best-selling author Robert Wiedemer during episode 218 of his popular podcast. Hartman and Wiedemer, author of Aftershock: Protect Yourself and Profit in the Next Global Financial Meltdown, discuss the fundamental problems of printing money, the inevitable results and how investors can profit as the world heads toward yet another global economic crisis.
Wiedemer describes the effect of the government bubble, the dollar bubble—when we can expect these to pop once again—and how these events will influence the U.S. government and world economy. As Wiedemer explains, there are four distinct bubbles: the stock market, housing, private credit and consumer credit.
"Those bubbles all work to boost the economy up. When they pop, that puts pressure on the government debt bubble and the dollar bubble," said Wiedemer. "We've already seen the government debts go way up. This forces the dollar bubble to be pumped up through massive money printing."
Wiedemer explains that the last bubble to fall is the dollar bubble. He adds that "once the dollar bubble pops, there's the real financial crisis. But, that won't happen until we hit 10 percent inflation. At that point, we'll see that final dollar bubble pop and with it the rest."
Globally, the dominos will fall and the U.S. will fare best along with Europe. Wiedemer concludes that Japan will be much worse off as well as China—which is especially vulnerable because of its export driven economy. Of course, Africa and South America are far more dependent on the rest of the world economy and remain most vulnerable.
Aftershock was chosen by Smart Money magazine as one of the five best investment books of 2009. In its 16th printing, Aftershock has sold over 250,000 copies. As president and CEO of Foresight Group, Wiedemer speaks to groups of investors, financial analysts and economists including the New York Hedge Fund Roundtable, Association for Corporate Growth, The Turnaround Management Association, the World Bank, the CFA Societies of Chicago and San Francisco and the National Press Club. He is a frequent commentator on TV including CNBC's Squawk Box and Fox Business News.
Wiedemer was the driving force behind the economics team that predicted the current economic downturn in 2006 with the book, America's Bubble Economy. He also acts as the primary investment valuation advisor to the Small Business Administration's SBIC venture capital program, the largest fund of venture capital funds in the world with over $20 billion invested in 370 venture funds with more than 4500 investments across the US.
Jason Hartman's The Creating Wealth Show has featured many recognizable names in recent years including Robert Kiyosaki (Rich Dad, Poor Dad), Harry Dent (The Great Depression Ahead), Michael Gerber (The E-Myth Revisited), Thomas Sowell (The Housing Boom and Bust), Thomas Woods (Meltdown), Pat Buchanan (author and presidential candidate), Michael Munger (gubernatorial candidate, North Carolina), Addison Wiggin (Empire of Debt with Bill Bonner) and many others. The Creating Wealth Show is available for free on http://www.JasonHartman.com/radioshows or the iTunes store—offering investment strategy advice to those who wish to be financially independent through income property investing.
About Jason Hartman
Jason Hartman, CRS, GRI, CSP, AIPIS, is America's foremost expert on long-term wealth creation through monetary policy and income property. He is the founder of Platinum Properties Investor Network, The Hartman Media Company, Open Door Auctions and The Jason Hartman Foundation. Jason is an accomplished entrepreneur, public speaker, media personality and author of 11 books.
Jason's Complete Solution for Real Estate Investors™ is a comprehensive system providing education, research, resources and technology for income property investment. His highly sought after educational events, speaking engagements and his acclaimed The Creating Wealth Show inspire and empower hundreds of thousands of people in 26 countries worldwide. For information, call 714-820-4200 or visit Jason Hartman online.
###