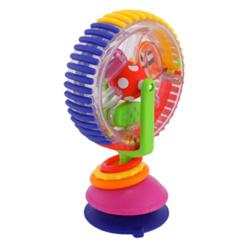 "We stay true to our vision with this year's product line up and are thrilled to unveil our offerings come September 23rd."
Kentwood, MI (PRWEB) September 19, 2011
Sassy Inc., a subsidiary of Kid Brands, Inc. (NYSE: KID), is set to launch several new toy, feeding and care lines at the ABC Kids Expo on September 23-26 in Louisville, KY at booth number 5518. The new product lines draw upon Sassy's knack for innovation and promise to continue to inspire all of babies' senses.
"The team at Sassy works with a board of experts including pediatricians, physiologists, early childhood development specialists, and physical and occupational therapists to ensure that our products not only meet or exceed all safety standards, but also are fun and engaging products with a purpose—to help baby learn and grow," said Dean Robinson, President of Sassy. "We stay true to our vision with this year's product line up and are thrilled to unveil our offerings come September 23rd."
Sassy/Carter's Line
Earlier this year Sassy and Carter's announced their partnership to introduce innovative, developmental toys, bringing purpose and fun to a Carter's branded toy line. The 2011 Sassy/Carter's line includes several new toy products including the huggable singing and dancing Musical Cow, as well as the brightly colored activity Elephant which includes a rattle, teething rings, and peek-a-boo. Equally engaging is the soft, attachable Tag Along Lion Ziggle Clip, which features mirrors and patterns to engage baby's vision and a rattle and vibration to help baby learn cause and effect. Suggested retail prices range from $7.00-$25.00.
Feeding Line
The Sassy feeding line continues to grow with exciting new products such as the Sassy Grow Up Cup™. This new developmental sippy cup features a patent pending no-spill design that helps develop coordination for drinking from an open cup. It also allows infants and toddlers to drink from anywhere around the cup's rim. The Sassy Grow Up Cup™ joins the trusted brand's developmental feeding line with products such as the 2011 Snack Cylinder and Snack Mug. The sophisticated jewel tone color palette is in line with Sassy's commitment to creative, groundbreaking design. The Sassy feeding line is currently available in stores and online with suggested retail prices ranging from $3.99-$8.99.
Interactive Learning and Development
Sassy products are known for their ability to engage and to stimulate, and this year's interactive superstar, the patented U–Play™ Story Time Mat, is no exception. The mat offers two settings: one side features a themed under the sea environment designed to encourage parents to "make up stories", engaging baby in communication skills; the other side features clear pockets which accept developmental discovery cards. Additional new toy products include Sassy's collectible Charm Bands™ whose styles include whimsical characters, fun saying and developmental features, Sassy's Piano, Guitar, My Phone, Chime Birds, Foam Playmat and the 2011 Oppenheim Toy Portfolio Gold and Platinum Seal Award winning Sensory Ball Set and Wonder Wheel. Suggested retail prices range from $4.00-$20.00.
Bath & Care
All of Sassy's toys are designed with the help of child development experts to encourage baby's developing sensory perception, motor skills and creativity. In line with this philosophy is this year's Fill N Flip Frog—a 2-piece set with pouring and spinning action that features bright colors and textures. Sassy's Rescue Vehicles float and squirt water and the buoy lights up when placed in water. And sure to delight small fry everywhere, Sassy's 5-piece Fishing Boat set is well-equipped for all sorts of water play—pour, scoop, or strain. A removable fishing pole encourages even more imaginative play! Suggested retails range from $2.99-$14.99.
For more information about Sassy's products, please visit: http://www.sassybaby.com or call (616) 243-0767.
About Sassy, Inc.
Founded in 1982, Sassy operates out of Kentwood; MI. Sassy enjoys distribution in all major trade channels, including mass-market retailers, food chains, drug stores, catalogs, and independent baby and toy stores in the United States. In addition, Sassy products can be found in 29 countries worldwide. Sassy's extensive product categories have grown to include developmental and attachable toys, infant and toddler bath and feeding products, grooming and hygiene products, teething products and room organization.
About Kid Brands, Inc. (Sassy's parent company)
Kid Brands, Inc. (NYSE: KID) and its subsidiaries are leaders in the design, development and distribution of primarily infant and juvenile branded products. Its design-led products are primarily distributed through mass market, baby super stores, and specialty, food, drug, independent and e-commerce retailers worldwide.
The Company's operating business is composed of four wholly-owned subsidiaries: Kids Line, LLC; LaJobi, Inc.; Sassy, Inc.; and CoCaLo, Inc. Through these subsidiaries, the Company designs and markets branded infant and juvenile products in a number of complementary categories including, among others: infant bedding and related nursery accessories and décor, food preparation and nursery appliances, and diaper bags (Kids Line® and CoCaLo®); nursery furniture and related products (LaJobi®); and developmental toys and feeding, bath and baby care items with features that address the various stages of an infant's early years (Sassy®). In addition to the Company's branded products, the Company also markets certain categories of products under various licenses, including Carter's®, Disney®, Graco® and Serta®. Additional information about the Company is available at http://www.kidbrands.com.
http://www.sassybaby.com, facebook.com/SassyBabyProducts, twitter.com/SassyBabyToys
###