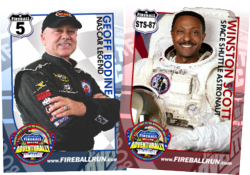 "2,000 children are reported missing daily in this country; nearly 800,000 children disappear annually. Pictures on posters are considered the single most important tool in finding a missing child. -NISMART
Orlando, Florida (PRWEB) September 20, 2011
Fireball Run Adventurally is not simply another motor sports event - it is actually an exponentially growing entertainment property (with a cause.) It is an annually-filmed production that travels over 2,500 miles to 15 cities in an 8-day effort to recover missing children.
The Fireball Run's Race to Recover America's Missing Children is the largest active recovery effort for missing and exploited children in the country. Each team is assigned a missing child from their home region along with thousands of posters to distribute along the route - to date the effort has assisted in the recovery of 36 missing children.
The production which is filmed for theatrical release will for first time this year, also be aired "live" on Fireball Run.com/LIVE via LiveStream to a potential 7 million viewers. To get an idea of how many people that represents, it is roughly the same numbers who watch Oprah Winfrey in Syndication or the NBA playoffs.
NASCAR legend Geoff Bodine, NASA Shuttle Astronaut Winston Scott, Actor/Activist Kevyn Major Howard and nearly 40 other teams of influential leaders will participate, driving everything from Bentley's and Camaro's to the DeLorean "Time Car" from Back to the Future and Transformers "Bumblebee."
All rally team vehicles will be equipped with GPS-tracking devices provided by RealTrack GPS; allowing fans to follow the rally and their favorite teams online as the numbered icons travel across real-time satellite photos. Fans can also engage in discussions with teams and each other via "live chat" on Fireball Run.com/LIVE. Cars are also decaled with QR codes, short for Quick Response, these square matrix codes can be scanned by smart phones to launch digital content; text and photos to websites and videos. Fans who participate in "Follow the Fireball" Scan, Track and Win! or Register, Track and Win! will be eligible for prizes, including a spot in next year's rally.
The 2011 Chevrolet Fireball Run Adventurally begins September 24th on Florida's Space Coast and concludes October 1st in the Mississippi Gulf Coast. 2011 locations include Melbourne and Jacksonville FL, Savannah, Atlanta and Peachtree City GA, Charleston, SC, Knoxville, Crossville and Clarksville TN, Scottsville, KY, Anniston AL, and Gulfport MS. The event and cities encourage the public to come out, get autographs, and show their support.
Sponsored by Chevrolet, Barrett-Jackson Auctions, Mattel/Hotwheels, LuxuryLifestyle.com, LiveStream.com, RealTrack GPS, O'Donnell Corporation, RedBird Printing and Sazerac.
To learn more about the Fireball Run and/or the Race to Recover America's Missing Children, email: media(at)fireballrun(dot)com or call: 407.224.5403
###