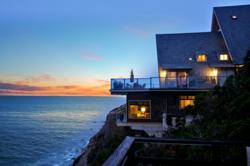 Cliffs: Dana's 'Romantic' Spot

There was grandeur in everything around, compared to the plain sand-beach of the rest of the coast, this grandeur was refreshing as a great rock in a weary land

-Richard Henry Dana
Dana Point, California (PRWEB) September 29, 2011
Prudential Realtor Shauna Covington announced today that Cooks Pointe, one of only three estate properties ever to be built on the Cliffs of the Dana Point Headlands, is listed for sale. According to Covington, great attention to preserving the craftsmanship and artwork of the original owners was an important goal of a recent multimillion dollar remodel.
Located on one of the best ocean view parcels on Southern California's coastline, this estate is three separate residences, each with its own unique architectural style.
Noted local designer, Eric Guenther, owner of Whim Design, was involved with the interior remodel. According to the owners, there were two important aesthetic goals during the project: First, to maintain and preserve the passion for the sea reflected in the unique nautical artistry and collection of the original owners, Ron and Marion Cook; and second, to achieve the highest level of contemporary style using materials that have a sense of balance with the surrounding area, a large conservation park.
Cooks Pointe is located on the Dana Point Headlands, a truly historic site…and one of the most romantic places on the Southern California coastline according to city namesake--Richard Henry Dana-- who first arrived on this coast in the early 1800s.
The property is listed for $10,495,000…For additional information, contact Shauna Covington, Prudential California Realty at 949-395-8786
Contact Information:
Shauna Covington
Prudential California Realty
949-395-8786
Shauna(at)Shaunacovington(dot)com
Steve Weiser, Public Relations
CPromotions
949-291-7800
SteveWeiserCP(at)gmail(dot)com
###