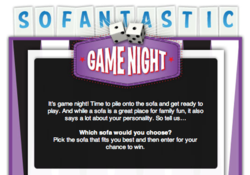 (PRWEB) September 19, 2011
Oh, memories! When it comes to creating life's best, most lasting family moments, many of our fondest can be formed on the living room sofa. It's where we gather together for board games and playfully compete with our brothers and sisters on the latest video games. This is why American Signature Furniture is revolving their latest sweepstakes around one of the living room's most sought after staples: the sofa. Starting September 17th and running through the 23rd, fans can enter for a chance to win a gift card worth $700 just by selecting which sofa they would prefer to cozy up on for a picture-perfect family game night.
Sofa fans everywhere can enter the sweepstakes by clicking the custom "Sofantastic Sweepstakes" tab at http://www.facebook.com/AmericanSignatureFurnitureUSA. Within the tab, fans are asked which American Signature Furniture sofa is their favorite. If they want a stylish sofa perfect for a ladies night in, cozy enough to hold a day-long tournament of trivia or simply strong enough to host a whole lot of rambunctious kids, there's something fit for every family. By selecting a sofa, they'll find out what their pick says about their family game night style and are instantly entered to win that week's grand prize of a free $700 gift card!
Getting friends involved is easy, too. American Signature Furniture fans can share their personality results with family and friends across Facebook and Twitter. And, fans should also remember to follow @AmSigFurniture on Twitter for Sofantastic September updates and to engage in fun conversation.
Each family member is eligible to win, so it's time to pause the game for just a second and jump onto Facebook. The sweepstakes is happening now, so log in and enter for your chance to win!
###