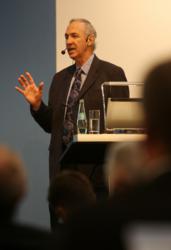 Zero Net Energy Buildings are the Future of Green Building.
Tucson, Ariz. (PRWEB) September 20, 2011
Yudelson Associates said today it was offering a new seminar for building owners, as well as design, construction and facility professionals, on the evolution and design of sustainable buildings and homes that are known as Zero Net Energy or "ZONE.""We've been tracking the development of this exciting new activity in the green building space," said Yudelson, a leading international sustainability consultant and green building authority, "It has grown dramatically as sustainability concerns continue to mount." A Zero-Net-Energy building is one that produces as much energy as it consumes on an annual basis, typically using solar or wind resources.
Yudelson presented the definitive exploration of the business case for zero net energy (ZONE) sustainable buildings in a green building White Paper in March of 2011 and has since tracked the evolution of these buildings in the U.S. and other countries.
In August 2011, Yudelson delivered the first of a planned series of seminars on Zero Net Energy Buildings and Homes, for an audience of architects, engineers, builders and developers in Phoenix, AZ. "What we have learned from the first few significant efforts," said Yudelson, "is that the key to Zero Net Energy projects is to reduce energy demand with an entire suite of sustainability planning measures, before we add the renewable energy component."
In 2007, Congress created a Zero Net Energy Commercial Buildings Initiative with a market transition goal of Zero Net Energy for all new commercial buildings by 2030. In Golden, CO, the National Renewable Energy's Research Support Facility, now in operation, plans to demonstrate how to achieve that level of performance in 2011.
Yudelson believes that 2011 and 2012 will see an explosion of major new projects aiming at net zero energy and cites the Bullitt Foundation's Cascadia Center commercial office building in Seattle, which just began construction as an example of the solid business case for such developments. "The Bullitt Foundation aims to fill this building with commercial tenants paying commercial rents and to still realize a positive return on investment," he said, "something we would not have seen or imagined only a year or two ago."
About Yudelson Associates
Yudelson Associates is a leading international firm in sustainability planning and green building consulting. The founder, Jerry Yudelson, is widely acknowledged as one of the nation's leading green building and sustainability consultants and keynote speakers. He is the author of 12 green building books and served for two years as Research Scholar for Real Estate Sustainability for the International Council of Shopping Centers, a 70,000-member international trade organization. He is a frequent green building speaker at industry and professional conferences, workshops and seminars. Yudelson also chaired the country's largest annual show, Greenbuild, for six years from 2004 through 2009.
For more information please contact Jerry Yudelson, 520-207-9759, jerry(at)greenbuildconsult(dot)com or visit http://www.greenbuildconsult.com.
###