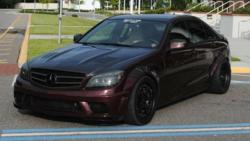 The all steel design of the widebody conversion was deemed necessary to maintain OEM quality and will never be mistaken for a tacked on flimsy plastic or fiberglass kit.
Columbus, OH (PRWEB) September 19, 2011
In collaboration with renowned aftermarket vehicle designer Keith Brantley of Dads Performance (DP), Modern Horsepower (MHP) is proud to present the Dads Performance W204 C63 AMG Widebody Conversion. The transformation from a run of the mill 2008-2012 model year C63 takes approximately 125hrs of labor including all body and paintwork, and can be performed on both sedan and coupe variants. Perhaps the most shocking post surgery stats: With enhanced haunches in place maximum rear tire width grows from 285mm to 355mm, while potential rear wheel width jumps similarly from 9.5" to 12.5"--though most will find 345mm tires on 12" wheels to be sufficient. To put those numbers into perspective, Lamborghini's flagship LP640 uses 335mm rear tires as does Chevrolets ZR-1 super Vette.
Keith's previous endeavors into automotive design have been crafted of carbon fiber, including both a functional vented hood that shaves 40lbs of mass vs the stock steel bonnet, and a matching trunk lid that adds useable downforce while eliminating an additional 14lbs—all of the reduced mass coming from locations with a high center of gravity making the gorgeous carbon fiber goodies just as functional as they are attractive. "The all steel design of the widebody conversion was deemed necessary to maintain OEM quality and will never be mistaken for a tacked on flimsy plastic or fiberglass kit" says Andrew Cluck, President of Modern Horsepower. In fact, it was only after purchasing a subpar polyurethane aftermarket kit and seeing the poor fitment and quality in person that Keith decided to take matters into his own hands, literally speaking. New metal inner fenders are fabricated from scratch to ensure the extended skirts are as strong and rigid as the stock versions. Rear quarter panels are also reworked to allow the conversion to meld and flow with the tasteful factory lines. Both the rear quarter panels and fascia/bumper are repainted as part of the immense and time consuming conversion process.
As with all Keith's designs and following MHP's philosophy of track proven functionality and performance it was decided from the beginning that the conversion not simply be aesthetically pleasing, with both parties insisting that the larger fenders and tires increase rear traction; something notoriously lacking from an as delivered C63. In fact when on-track at Roebling Road during initial testing and wearing the appropriate duds (Hoosier slicks) the increased grip out back necessitated larger front tires to mitigate the increased understeer caused by the massive rear meats.
Typical lead time for project completion of a widebody conversion varies from 2-4 weeks depending on the present workload. Bargain hunters take note: An additional discount is offered on DP's vented carbon fiber hood and/or trunk for those going forward with the widebody conversion simultaneously. One time installation also guarantees a perfect paint match. For those with other AMG models ie CLK Black Series, CLK, E, or even BMW, Porsche, Audi--and beyond--applications please contact MHP via email at sales(at)modernhorsepower(dot)com or directly by calling 614.940.9523 to discuss the potential of a custom DP widebody conversion. Other C63 AMG performance products can be found by visiting Modern Horspower online at http://www.modernhorsepower.com
This release was distributed by Localize It, an online internet marketing company. To inquire more about this release or the information contained herein please contact Localize It at contact(at)local-ranking(dot)com or visit us on the web at http://www.localizeitnow.com.
###