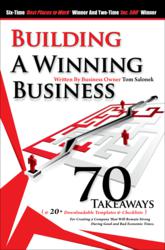 Saint Paul, MN (PRWEB) September 20, 2011
Leadership Blog was featured on the technical and leadership blog TechJournalSouth.
The blog posting on TechJournalSouth.com was based on chapters in the book from blog author, Tom Salonek, Leading a Winning Business.
The guest post on TechJournalSouth covered five concepts from Salonek's book.
The first concept was taking time to a set your strategy. The second concept was focused on recruiting. In summary, the guest post shares that it pays to be picky. The third concept focused on execution and cited an Inc. Magazine study: "75 percent of the CEOs leading Inc. Magazine's top 500 companies" shared the reason for their success was "superior execution in a mundane business."
The fourth and fifth concepts focused on setting an example with a positive, solution focused attitude and "relaxing with the process" in implementing the ideas in the book (vs. being overwhelmed with so many practical concepts).
About Tom Salonek and Intertech
Tom Salonek is the founder and CEO of Intertech, a Minneapolis-based technology consulting and training firm. In 2005, he was named one of Minnesota's Top Business Leaders under 40. Intertech has been named twice to INC 500's list of fastest growing companies, and is also a seven-time winner of the Business Journal's Best Places to Work award. In 2003, Salonek founded the Intertech Foundation to financially assist families with critically ill children.
Tom Salonek has completed executive education at the Harvard School of Business and the Massachusetts Institute of Technology and is a past instructor at the University of St. Thomas Management Center. He holds a degree in Computer Science from the University of St. Thomas. Salonek has written more than 50 articles on business, leadership and technology.
###