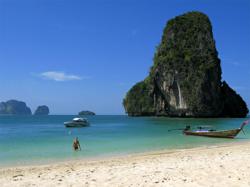 In the midst of an economic recession, Krabi tourism and development has continued to grow at an astonishing pace.
Krabi, Thailand (PRWEB) September 20, 2011
Krabi, which is located in southern Thailand, is a booming vacation spot known for its fabulous scenery and tropical islands. According to KrabiVilla.com, the area has grown in popularity and has captured the attention of prominent investors and land developers over the past year.
Krabi is a beautiful province in the south of Thailand, known for its spectacular scenery, tropical islands and fantastic leisure activities. This lush region is currently experiencing unprecedented growth as tourists flock to the famous beaches and world-class resorts. Krabi boasts some of the best holiday accommodations in Thailand, offering travelers affordable luxury, high-end amenities, and unsurpassed service.
With the increased the volume of tourists, developers are working diligently to keep up with the demand for accommodations. Four new Krabi hotels and resorts are currently under construction: the Mercure Krabi Deevana and the Ibis Krabi in the Krabi resort of Ao Nang, the Beyond Resort Krabi in Klong Muang, and the Centara Grand Lanta Island resort in Koh Lanta.
As the property market in Thailand continues to attract hungry investors from around the world, development in the much sought after province is also turning its attention to residential property. Two exciting, high profile projects have been recently proposed and are certain to attract serious investment interest and boost an already thriving local economy.
The first of these property developments is the spectacular Royal Krabi Marina, located at Long Beach in the Nua Klong district, just twenty minutes from Krabi international airport. This luxury beachfront development will tempt prospective buyers with the choice of high spec Krabi condominiums or orsumptuous villas. Future Royal Krabi Marina property owners who want to take full advantage of the lucrative Krabi holiday market will have the option of placing their property on a rental program. Those opting to live in their unique, off plan property, can benefit from convenient services such as cleaning, maintenance and housekeeping, all for a reasonable fee.
The iconic Royal Krabi Marina properties are designed by talented Krabi architects and built to exacting standards, allowing the possibility of residing in a truly marine environment that boasts most breathtaking areas in the world. Attractively priced, the outstanding and highly desirable residential properties with their own private mooring facilities and nearby golf course are not likely to stay on the Krabi property market for long!
Another sensational Krabi development scheduled to be completed at the end of 2012 is the Port Takola marina, located 30 nautical miles east of Phuket. It will serve as a gateway to the beautiful archipelago of Krabi and Phang Nga Bay and provide an ideal solution for those wishing to explore the islands of Krabi by boat. This development, which will offer fuel, power, and water and provide a convenient stopover for the super yachts sailing from the overcrowded marinas of Phuket, is likely to encourage important new business to Krabi.
Once finished, Krabi Port Takola will provide no less than 250 berths and comfortably accommodate yachts between 10 and 35 meters. In addition to the boat yard, the development will also include desirable Port Takola villas, many with private berths, as well as additional properties set in a secluded woodland area.
In addition to the expansive properties currently under construction, future plans include a top class hotel in Port Takola and an on-site hospital. As the eyes of travelers, developers, and investors are drawn to Krabi, this region continues to grow in desirability and flourish economically. Given the lush, mountainous landscapes; endless beaches; breathtaking water; and world-class accommodations and amenities, it is no wonder that Krabi has captivated the world of luxury travel.
# # #