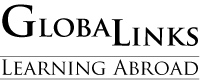 GlobaLinks Learning Abroad assists U.S. and Canadian students in achieving academic, professional, personal, social and cultural discovery.
Denver, CO (PRWEB) September 20, 2011
GlobaLinks Learning Abroad, a provider of international education programs across the globe, today announced the addition of seven new programs available to students.
The new programs from GlobaLinks Learning Abroad, which assists U.S. and Canadian students in achieving academic, professional, personal, social and cultural discovery in Australia, New Zealand, Asia, Europe, and the South Pacific, include:
Challenge Australia: Leadership Development - Summer
This two-week summer short course is modeled after our Challenge New Zealand: Leadership Development program. Students will travel throughout eastern Australia while studying the theory of leadership.
Community Arts in Australia - Summer
In this three-week summer course students will experience the importance of the arts in our societies and discover the many ways that the arts strengthen communities, by researching and participating in community-based arts programs that span the traditional fine and performing arts as well as media, oral history, ethnography, and social activism. The course travels to Melbourne and Brisbane.
Sustainable Engineering - Summer
This three-week summer program introduces the concept of sustainability and promotes its application to projects in both the built environment and natural habitats of Australia. The program travels to Sydney, Canberra, and Cairns.
Hong Kong Polytechnic University Semester/Year Abroad
PolyU offers a wide range of academic programs, many of which are amongst the best in Asia and the world. Academic options are within 27 departments under the following faculties and schools: Applied Science and Textiles, Business, Construction and Environment, Engineering, Health and Social Sciences, Humanities, Hotel and Tourism Management, and Design.
Musashi University Semester/Year Abroad
Musashi University is a small private institution located in the quiet residential area of Tokyo's Nerima ward. Musashi enrolls approximately 4,000 students in the faculties of Economics, Humanities, and Sociology. Musashi University developed the East Asian Studies Program specifically to address the needs of international students who wish to learn Japanese language while also perusing East Asian Studies courses instructed in English. The small class sizes, strong student supportive services, and a community-oriented university atmosphere make Musashi a place where students can connect with instructors, staff, Japanese students, and local culture. Please note this program commences Fall 2012.
National University Singapore – Extension Semester/Year Abroad
The National University of Singapore (NUS) is Singapore's premier university with distinctive strengths in education and research, and an entrepreneurial dimension. In 2010/11, Quacquarelli Symonds (QS) ranked NUS in the top 50 universities worldwide and 3rd among Asian universities. NUS Extension developed this program to meet the specific needs of visiting international students who are interested in intensive language learning, coupled with academic coursework specifically focused on Singapore and Southeast Asia. As a multilingual society Singapore is the ideal place for students to learn Mandarin. English and Mandarin are officially recognized languages of Singapore and are widely used throughout the city/state.
Our internship programs offer top notch work experience opportunities that ensure participating students are fully prepared to enter the workforce after graduation. Our placements are high quality work experience opportunities where participants will gain first-hand knowledge and training about their career of interest. Interns will participate in projects directly relevant to their field of study, not just file papers or shadow senior staff. This offers a rare opportunity for students to prepare for their future occupations while enjoying the unique experiences of life as international citizens.
About GlobaLinks Learning Abroad:
GlobaLinks Learning Abroad, based outside Denver in Westminster, Colo., is a leading provider of education abroad programs for college-level students in destinations across the globe. Students from more than 800 universities and colleges across North America choose to study with GlobaLinks Learning Abroad each semester via its educational programs:
AustraLearn – semester and year abroad, internship, and summer programs in Australia, New Zealand and Fiji via 35 partner universities, and degree programs in Australia and New Zealand at more than 30 institutions at DegreesOverseas.com.
AsiaLearn - with semester, year, and summer programs in China, Hong Kong, Japan, Malaysia, Singapore, South Korea and Thailand via nine partner universities.
EuroLearn - with degree, semester, year, and summer programs, including research abroad, in the Czech Republic, England, Germany, Greece, Scotland, Wales, Ireland, Italy, and The Netherlands via 17 partner universities.
Since it was founded in 1990, GlobaLinks Learning Abroad has sent more than 20,000 students on educational programs worldwide. For more information, visit GlobaLinksAbroad.org or check out the latest news on our programs and partners at GlobaLinksNewsWire.com.
###