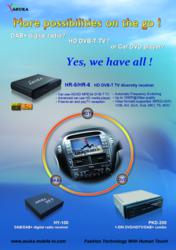 "We have been looking for industry-grade DAB solutions and we are pleased to partner with KeyStone to introduce a series of DAB in-car entertainment systems for our new DAB product family," said Dr. Ron Hu, President and founder at Asuka Inc.
Hsinchu, Taiwan (PRWEB) September 21, 2011
KeyStone Semiconductor Corp. (KeyStone), a leading fabless semiconductor developer of advanced digital radio technologies announced today that its single-chip FM/DAB/DAB+/DMB-R receiver IC, KSW8650v, is selected by Asuka Inc., a leading ODM supplier of handheld DVB-T TV and in-car entertainment systems. Two new models employing KeyStone's KSW8650 single-chips were released at IFA, Berlin 2011. More are to be introduced later this year.
Asuka HY-100 is a low-cost industry-grade DAB/DAB+ digital radio receiver that provides audio and slide show outputs to vehicles. It is well designed to meet industry-grade temperature range from -40 C to 85 C while delivering color slide show to in-car entertainment systems. Asuka PKD-200 is a DVD/HDTV/DAB+ combo that offers in-car multimedia and DAB/DAB+ digital radio. Both products were first showcased at Asuka's booth at IFA, Berlin, Germany and will be demonstrated at Taitronics, Taipei and at Hong Kong Electronics Fair in October 2011.
"We are pleased to partner with KeyStone to introduce a series of DAB in-car entertainment systems for German and the rest of the European market," said Dr. Ron Hu, President and founder at Asuka Inc. "KeyStone offers industry's only low-cost vehicle-grade DAB/DAB+ single chips that not only meet our cost requirements but also provide rich features such as slide show, EPG, and TPEG to satisfy our head unit requirements."
New product demonstration will be available at Hong Kong Electronics Fair from October 13 to 16, 2011 at KeyStone's suite. For more information on KeyStone's digital radio Tsunami family, product roadmap, product applications, and patented wireless digital radio technology, please send your inquiry to contact(at)KeyStonesemi(dot)com.
About KeyStone
KeyStone Semiconductor Corp. is a technical innovator and leader in wireless digital radio semiconductor. Company is dedicated to providing a series of low-power and low-cost digital radio IC family for today's multimedia broadcasting market demands. KeyStone offers turn-key solutions from novel Apple and Android apps such as DAB GO!, FM GO!, POWER GO!, KEYSTONE to complete digital radio design platforms to reduce customers' time-to-market efforts.
KeyStone products enable the delivery of the enriched analog and digital multimedia contents to home and mobile environments. Company provides the industry with the lowest-cost system-on-a-chip turn-key solutions to manufacturers of analog and digital broadcasting access products and portable devices.
Company is funded by public and private entities and is headquartered in the Science-Based Industrial Park, Taiwan, and has offices and facilities in North America and in China. KeyStone can be contacted at +886.3.666.2756 or at contact(at)keystonesemi(dot)com.
About Asuka
Asuka established in 2001 with main business interests centered around the concept of "Mobile DTV & Mobile Entertainment." Asuka intends to bring the contents of digital television and other multimedia sources accessible to users anytime and anywhere.
Asuka module products have been successfully used in products such as home TV and many other interesting applications. Asuka has been commonly recognized by the industry today as a leading ODM supplier of Handheld DVB-T TV, working closely with a number of brands companies to promote mobile DVB-T products over years. Detailed information about the product and the roadmap can be found at http://www.asuka-mobile-tv.com.
Press Inquiries:
KeyStone Semiconductor Corp.
2nd Floor, 62 Park Avenue 2,
Science-Based Industrial Park,
Hsinchu, Taiwan 300
Office: +886-3-666-2756
Fax: +886-3-666-2758
Email: Contact(at)KeyStonesemi(dot)com
Web: http://www.KeyStonesemi.com
Asuka Inc.
2nd Floor, 12 Prosperity Road 2,
Science-Based Industrial Park,
Hsinchu Taiwan 300
Office: +886-3-666-7117
Fax: +886-3-666-7104
Email: sales(at)asuka-mobile-tv(dot)com
Web: http://www.asuka-mobile-tv.com
###