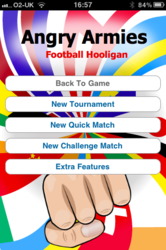 OMG...this game is amazing, love it. Cathze, iPhone User.
(PRWEB UK) 21 September 2011
The Lichfield (UK) based company has launched its first game for the iPhone, iPod and iPad.
Choose from 32 of the best fighting nations across the globe and battle to win the Football Hooligan World Cup. Teams include: Chinese Kung Fu Kings, Dutch Orange Army, English Bulldogs, Welsh Dragons, Scottish Tartan Army, Russian Red Army, Argentinian Pumas, German Kaisers, Ivory Coast Tusks, Moroccan Scorpions and many more.
Each country has its own style and signature song to help you lead your Army of hooligans to victory across a variety of different backgrounds including 'Beaches, Stadiums and Streets'.
Choose from a variety of different game settings including: turn based fights, free for all fights, best out of 3, 5 or 7 rounds and countdown timer ranging from 30 seconds to 1 minute per round.
Game Features:

Quick Match, Tournament & Challenge Mode
Throw Coins, Bricks or Bottles.
'Turn Based' and 'Free for All' fighting modes.
Matches are decided over 3, 5 or 7 rounds.
Your choice of countdown timers (30, 45 or 60 seconds).
Chants from Real Life Football Matches.
Choose from 32 international teams.
Win an Angry Armies t-shirt with our exclusive competition.
Download a FREE trial version of Angry Armies within the iTunes App Store:
Watch our promo video for Angry Armies - Football Hooligans
# # #