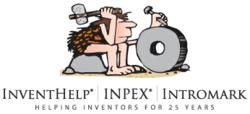 Pittsburgh, PA (PRWEB) September 23, 2011
InventHelp®, America's largest inventor service company, announces that one of its clients, an inventor from Canada, has designed leg warmers to protect a dog's legs from cold, wet conditions and from dirt. This invention is patented.
The knit accessories would wrap around a dog's legs and would be secured by nylon fastener strips. Easy to put on and remove, "Dog Gone Comfy" could keep a dog warm, comfortable and clean while outdoors and also help to reduce tracking on carpets and floors when returning inside. The accessory would stay on securely and is designed to fit all dog sizes.
Dog Gone Comfy would consist of a set of four leg warms that would be producible from knit material. The base of each leg warmer would be configured into an open cuff. A hook-and-loop fastener strip would be attached to each side of the cuff. The tops of the warmers would be open as well. The leg warmers for the hind legs would be slightly longer than those for the front leg and would include small, medium and large sizes for all dog sizes. A strap with a hook-and-loop fastener would extend from the top of each leg warmer. To use, an individual would slip the leg warmers on all four of the dog's legs, secure the cuffs via the nylon fastener strips, then join the straps across the dog's back and connect them via the additional nylon fastener strip. Dog Gone Comfy could be producible from acrylic, fleece, a cotton/polyester blend or nylon. The accessory may be offered in a variety of colors and styles, which could include patterned versions.
InventHelp® is attempting to submit the invention to companies for review. If substantial interest is expressed, the company will attempt to negotiate for a sale or royalties for the inventor. For more information, telephone Dept. 08-TOR-8211 at (800) 851-6030.
# # #