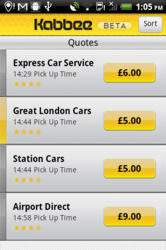 Kabbee's Android customers will now get the same great experience as on the iPhone app and website
London, UK (PRWEB UK) 21 September 2011
Since its launch, Kabbee has been offering customers a high quality minicab price comparison, booking and payment experience via its iPhone app and its (mobile compatible) site http://www.kabbee.com. Until recently, however, the full version of the Android app has been delayed by technical issues, meaning that a below standard Android beta version has been frustrating Kabbee and its customers. Now the full version has been released Kabbee can offer an optimised minicab booking experience to Android users.
Phil Makinson of Kabbee commented "Kabbee has been live for nearly three months and has made finding minicabs easy for thousands of Londoners: over twenty thousand people have downloaded the free iPhone app and thousands of journeys have been booked. The Android app, however, has been very complicated to deliver, partly because Kabbee offers full mobile payment, and this led to delays and some bad reviews for the beta which, unfortunately, were fully deserved. We are pleased that the full version means Android customers will now get the same great experience as on the iPhone app and the Kabbee website. Thanks to customer feedback and various press appearances (see http://www.kabbee.com/?page_id=145) we have already had thousands of downloads since the re-launch".
Makinson continued "Kabbee is building on its initial successful launch with this technical upgrade. Customers appreciate that Kabbee makes it easy to get instant prices and times for safe cabs anywhere in Greater London. Moreover, since launch, we have been delivering on our promise to improve quality in the London minicab industry by managing fleets and, in some cases, removing them from Kabbee when they do not meet our standards. Our previous research showed that 85% of Londoners have difficulty booking a quality minicab wherever they are so Kabbee is focused on helping these customers. As well as relaunching the Android app, we are continuing to add new fleets and improve the booking experience to ensure that Kabbee provides what London minicab users tell us they want. We will be rolling out Kabbee across the UK and beyond shortly."
Kabbee's free apps are available to download via the Kabbee website or from the iPhone App store and Android Market. Other customers can use http://www.kabbee.com to book from their smartphone or computer.
Contact Phil Makinson:pr(at)kabbee(dot)com
###