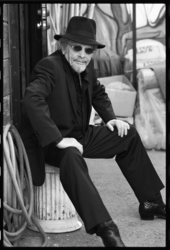 Napa, Ca (PRWEB) September 20, 2011
When a Merle Haggard song plays, it can make an innocent-as-apple-pie grandma understand the stark loneliness and self-loathing of a prisoner on death row; a rich kid who never wanted for any material possession get a feel for the pain of wondering where the next meal will come from; a tee-totaling pillar of the community sympathize with the poor heartbroken guy downing shots at the local bar. As a result, Haggard has found his songs at the top of the charts on a regular basis. Immediately embraced by country fans, he also earned the respect of his peers. In addition to the 40 #1 hits, Haggard has charted scores of Top Ten songs. He's won just about every music award imaginable, both as a performer and as a songwriter, and in 1994 was inducted into the Country Music Hall of Fame. His body of work easily places him beside Hank Williams as one of the most influential artists in country music.
It would be difficult to find an artist as creative, as successful, and as stubbornly true to himself as Haggard. He blended elements of jazz, rock, blues and folk music into his arrangements, while staying true to the traditions of country. No matter what the current fashion of the moment was in music, Haggard always went his own way.
Buy concert tickets for Merle Haggard plus Noel Haggard $80/90. They are on sale now and can be purchased through the theatre website at http://www.uptowntheatrenapa.com, at Ticketmaster (http://www.ticketmaster.com) or at the theatre box office (please call 707.259.0123 ext. 6 for hours). To find out more, please visit http://www.uptowntheatrenapa.com.
The Uptown Theatre Napa is the North Bay's ultimate destination for live concerts. Nestled in the famed West End district of Napa, this stunningly restored art deco masterpiece showcases only the finest acts, featuring music, comedy and more. An historic landmark, the Uptown is a phenomenal concert venue, offering an intimate live show experience, with excellent site lines and world class sound and lighting. Every seat is a great seat!
Some of the biggest names in entertainment have played live concerts at the Uptown, including Boz Scaggs, Cyndi Lauper, BB King, Lewis Black, George Thorogood, Lyle Lovett, and many more. See the list of artists playing upcoming live concerts at our beautiful concert venue. To find out more, please visit http://www.uptowntheatrenapa.com.
###