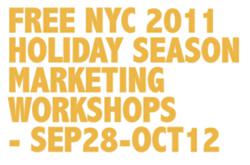 "In the face of a double dip recession and national competitors, the key to success this holiday season is for small businesses to work together, not on their own."

James Maule - Founder & CEO, mogulfish.com
New York, NY (PRWEB) September 19, 2011
This holiday season, New York City small businesses will overcome any lack of consumer spending, larger national competitors and low marketing budgets, as one collective force.
Free workshops will be held in each local NYC neighborhood from September 28 to October 12, 2011, where businesses will build their holiday season marketing campaigns together.
The workshops will teach businesses to take on the community approach to DIY marketing, called do-it-together (DIT) marketing. As well as using the full range of individual marketing options, small businesses will break out into neighborhood-based group sessions to develop joint promotions.
For example:

Business-to-Business Promotions - Swap email blasts, Twitter and Facebook posts, website ads, in-store ad and more. It delivers individual or joint business promotional opportunities to the shared target customers.
Neighborhood Group Promotions – Attract local customers with special events, bundled offers and products and shopping guides. Opportunities like these make neighborhoods a shopping hot spot.
New York City Promotions - Join hundreds of small retail (brick & mortar, online, manufacturers) for a huge city-wide promotion that will generate millions in sales.
In just one 3 hour season every attending business, no matter how small their budget, can build and walk out the door with a ready-to-go marketing campaign.
Individually, businesses will be ready for all the key sales and marketing opportunities starting with Thanksgiving and finishing with the post Christmas clearances.
Collectively, they will save up to 90% on marketing costs, reach up to 10X the number of customers and be able to stand up to their larger competitors (vs doing it on their own).
For more information and to secure a spot in their local workshop, businesses should go to http://www.mogulfish.com, who are leading the team of New York small business marketers and associations who have come together to make this happen. A personal video invitation from the Founder and CEO can be found at http://www.youtube.com/mogulfish.
An introductory 45 minute seminar is also being held at the Free Brooklyn Business Expo tomorrow, Tuesday, September 20, from 2.30pm to 3.30pm.
Source: James Maule, Founder & CEO, mogulfish.com
###