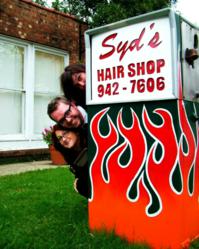 Show your stylist examples/pictures of hair styles you like. Jennifer Aniston is at the top of the wish list for great cut and color," says Kerri Lee, senior editor at salon-focused behindthechair.com.
Chapel Hill, NC Chicago, IL (PRWEB) September 20, 2011
Bradford Scott, an owner of Syd's Hair Shop (http://www.sydshairshop.com) in Chapel Hill, NC decided to celebrate the shop's 10-year anniversary with a Hair Survey on "what you do or don't do to your hair." He was surprised by the response of 1002 people who went to the shop's website and Facebook to give their hair opinions. "We are a popular salon but the response showed how many people have opinions to share about their hair." Scott turned to an expert in the hair salon industry for interpretation of the survey conducted August 12 to September 18.
Kerri Lee, senior editor at behindthechair.com, a leading industry resource for salon professionals, found the survey results "surprising." For example, most people air or towel dry their hair more often than they blow dry and generally take less than five minutes to style. Also unexpected, Lee says, is the fact that a majority of the respondents don't color their hair. Less surprising is the acceptance of non-permanent glitter, feathers and color. "Stars such as Steven Tyler have made hair additions fun." The statistic Lee says is "disturbing" comes in response to "What is your worst hair mistake?" The majority chose "miscommunicated with stylist."
"Stylists spend a lot of time trying to help patrons obtain healthy hair and flattering hair styles but these statistics show salons need to do a better job educating clients and improving communications," said Lee.
Lee recommends the following tips for salon patrons to get the most from their salon and stylist:
1. Show your stylist examples/pictures of hair styles you like.
Pictures often work better than words. Lee says Jennifer Aniston is at the top of the wish list for great cut and color. Show the look you want while telling the stylist about your lifestyle.
2. Get facts AND demonstrations about products and tools available for your use at home to improve the health and look of your hair.
Salon products, which are also often available retail, have much higher standards (some "green") on protecting hair. Ask for details and samples. Get hands-on instructions from salon classes or your stylist on blow-drying your hair and correct use of hair products and tools to help you get the look you want safely and effectively.
3. Ask about easy and less-expensive ways to try new hairstyles and color.
You can try a new style or color/s without making a big commitment. One example is a face-framing highlight. Your hair is one of the easiest ways to get a new and brighter look.
Scott and co-owners Amy Jae Crawford and Amy Testerman agree with Lee's tips and add a fourth tip. "Your hair is one place that honesty really counts: if you don't like your stylist, try someone else to get a change. We have one client who goes back and forth between two stylists, that's great."
About:
Syd's Hair Shop was established by three hair stylists in 2001 in Chapel Hill, NC. The eclectic shop has won many "best salon" awards including the 2011 Indy Weekly readers poll for Orange/Chatham counties for 2011. Owner Bradford Scott is an International Educator for Abba Pure Performance Hair Care (http://www.pureabba.com). Syd's has a history of sharing with the community via frequent fundraising events for national and local charities, including a "Glitter Rock for Rock Against Cancer (http://www.rockagainstcancer.org) event held September 17, the shop's 10th anniversary.
behindthechair.com was established by Mary Rector-Gable in 2000 and is the leading Website for salon professionals. Over 530,000 members subscribe to the site, making it the largest community of hairdressers in the world. Over 75,000 salon professionals nationwide subscribe to behindthechair.com "on paper," the quarterly print magazine published by the organization, and there are over 77,000 Facebook fans who follow behindthechair.com. The company is based in Chicago, IL.
###