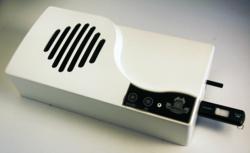 Never get bored of your doorbell again
Sparta, NJ (PRWEB) September 23, 2011
The Tommyknocker USB digital doorbell is the only patented doorbell that keeps your audio files in the digital domain. Because the Tommyknocker utilizes USB protocol, users can upload their MP3 audio files without the need of cables, jacks or connectors. The Tommyknocker also maintains your files in the digital environment, with no file degradation or loss of fidelity. It is shipped with a pre- loaded USB stick with built in sounds enabling users to easily select their favorite sounds and have them play on any door of their choice. There is no need to use a computer, the sounds are on the stick and ready to go and can be selected directly from the Tommyknocker's front panel. The Tommyknocker also has an extensive library of sounds that can be accessed using our website, and can also use sounds that you may have recorded or have on your computer. Other so called digital doorbells cannot load audio files without recording via a microphone or other analog means, which degrades the sounds and usually adds unwanted noise. The Tommyknocker is the only patented doorbell that can use the well-known and simple USB protocol.
New MP3 sound files can be added to the Tommyknocker USB memory stick via a computer with the help of our website and may be any length up to the size of the stick. The website http://www.tommyknockerdoorbell.net offers users instructions on setting up sticks, wiring diagrams and installation instructions. In addition, the Tommyknocker can be used as a MP3 player capable of playing entire albums. The Tommyknocker can be used as drop in replacement to an existing doorbell. It is easily connected using the supplied wiring harness and mounting plate (the Tommyknocker is not wireless). The unit is powered by a 10 watt amplifier and plays back through a quality 4" full range speaker, adjustable to over 80 db. The Tommyknocker Digital Doorbell offers an exciting alternative to traditional solenoid doorbells with a large variety of sound options at the user's fingertips. If you like gadgets and have plenty of digital audio, the Tommyknocker will give you years of enjoyment.
Predominance LLC welcomes inquiries from 3rd party developers and sound designers with interest in the Tommyknocker. For further information on development or licensing, please send emails to Scott Steinetz at bizdev(at)predominancellc(dot)com.
For additional information and pricing on the Tommyknocker Digital Doorbell and accessories go to http://www.tommyknockerdoorbell.net
Copyright © 2011 Predominance LLC All Rights Reserved. US Patent 7,382,233
# # #