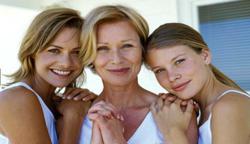 ... result is increased elasticity, firmness, softening & smoothing of the skin and decreased wrinkles
Apex, Raleigh, NC (PRWEB) September 20, 2011
Addressing the challenges of maturing skin, SKIN all natural™ introduces an all natural facial care solution with an impressive line-up of their new anti-aging facial care products. Full spectrum bio-active botanical extracts, natural moisturizing agents, premium cold pressed oils and plant peptides help target specific skin problems, while stimulating skin's own self-healing mechanisms. These carefully selected ingredients provide time tested benefits of traditional Indian Ayurveda and the latest dermatological research.
Scientifically, skin begins to age in the late 20s. Metabolic, circulatory as well as lymphatic systems begin to slow down at this age. The resulting drop in nutrients and oxygen causes a reduction in the skin's fatty tissues, that are needed to bind and store essential moisture. The lowered capacity to retain moisture causes lines and wrinkles to form on the skin. The depletion of skin oils and moisture weakens the vital acid mantle of the skin and reduces its self-corrective ability. The first signs are increased dryness and sensitivity, and a decrease in skin elasticity.
Instead of externally masking skin problems, or temporarily altering the skin's appearance with the use of synthetic chemicals, SKIN all natural™ anti-aging facial care products work at the molecular level to activate skin's inherent capacity to regenerate and heal. SKIN all natural's ingredients work safely in synergy with skin to stimulate and support natural skin hydration, lubrication, protection, repair and regeneration. The result is increased elasticity, firmness, softening and smoothing and decreased wrinkles. SKIN all natural™ anti-aging products supplement and enhance the daily facial care regiment and provide the perfect rejuvenation for maturing skin.
SKIN all natural™ is a 100% natural cosmeceutical brand of Choice All Natural, Inc. a social corporation based in Apex, NC, dedicated to providing all natural safe and effective consumer products. Learn more by visiting http://www.skinallnatural.com and joining their social communities on Facebook and Twitter
###