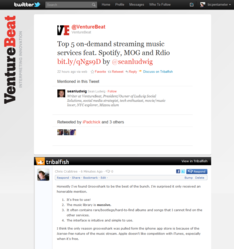 "In a single click, Twitter users can expand Tweets into discussions with people on and off of Twitter."
Salt Lake City, Utah (PRWEB) September 19, 2011
Twitter® users now have a powerful extension for engaging in longer, meaningful discussions sparked from a Tweet. TribalfishTM, the discussion network, today released Tribalfish App for Twitter--a free browser extension for Chrome, Firefox and Safari that lets Twitter users turn tweets into interactive, persistent discussions with multiple people in private and public groups. Tribalfish-fueled posts on Twitter can be longer than Twitter's standard 140-character limit, and users can invite both Twitter users and non-Twitter users to join a discussion.
"When tweeting, there is a point when you want to move beyond the standard Twitter system and engage in a deeper discussion--usually taking one or more people to an email thread, forum or even a phone call," said Lyle Ball, CEO, Tribalfish. "To solve this problem, we created a lounge where, in a single click, Twitter users can expand Tweets into discussions with people on and off of Twitter. Tribalfish is more than just longer Tweets."
Tribalfish App for Twitter gives Twitter users the ability to:
1. easily evolve existing tweets into longer, meaningful discussions, debates, support or answers
2. set up public and private groups to either promote, control or hide the content of discussions initiated on Twitter
3. post responses to their Facebook wall
4. track the responses, interests and group behaviors of people with similar interests
Single-Click Registration at http://tribalfish.com/twitterapp
Twitter users complete a simple form to request both their Tribalfish user account and the Tribalfish App for Twitter. Once the Tribalfish browser extension is installed, a Tribalfish button appears beneath each tweet, next to their Favorite, Retweet and Reply buttons.
Single-Click Usage
Turn any tweet into a discussion with one click. When a user clicks on the Tribalfish button in a Tweet, they go to an individual Tweet page on Twitter.com, where Tribalfish displays an extended discussion window below the Tweet. From this Tribalfish-enhanced view on Twitter, users can also invite others to join the discussion via @Twitter IDs or email. Tribalfish lets Twitter users choose to either view the Tribalfish-enhanced discussion from either their existing Twitter page or from a customizable Tribalfish page with a comprehensive dashboard, message stream window and large-screen adjustable viewing window for longer discussions.
See it Work
Watch a demo of Tribalfish App for Twitter at: http://tribalfish.com/twitterapp
Why Twitter?
According to Twitter, the company has 100 million active users and 400 million monthly visitors, up from 250 million in Jan 2011. Each day, 460,000+ new user accounts are created. People send 1 billion Tweets/week, up from 350 million one year ago.
How We Make It Work
Tribalfish App for Twitter is powered by the Kynetx development platform. Kynetx enables the integration of services and functionality into any existing website with a single browser extension. This browser app enhances and connects Twitter and Tribalfish by adding more information and functionality based on a user's interests and wants. View the full list of Kynetx browser apps in the Kynetx Marketplace at http://apps.kynetx.com.
About Tribalfish
Based in Salt Lake City, Utah, Tribalfish enables users to engage in meaningful discussions on the web. Tribalfish is a real-time, topic-driven discussion network that satisfies increased user demand for real-time social interaction with longer, more in-depth content by enabling a new standard of live, meaningful discussions between private individuals, membership groups and the global web community. For more information or to register, please visit http://www.tribalfish.com
Links:
Demo Video: watch a demo of Tribalfish App for Twitter at: http://tribalfish.com/extension.htm
Get the App: get Tribalfish Twitter App at: http://tribalfish.com/extension.htm
Visit Tribalfish: http://tribalfish.com
Visit Kynetx: http://kyentx.com
Other Kynetx apps: view the full list of apps in the Kynetx Marketplace at http://apps.kynetx.com
# # #