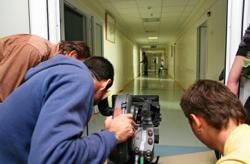 They had no idea of our real capabilities until they actually saw them on video.
(PRWEB) September 21, 2011
John Apgar Productions of Chino Hills, California has announced a new service to aid companies that use marketing videos to boost sales.
The company has been in the business of producing marketing and training videos for over 30 years. The new service deemed: "After Production Marketing" shows companies how to best utilize their video to increase sales.
It adds news releases to the equation. Once the video is completed, the company sends out PR stories that mention the video. Inside the story are links which drive traffic to the user's website to watch the video.
"Too often video producers finish their role without taking the client through the steps of maximizing the effects of their sales videos," claims John Apgar, owner and president of John Apgar Productions. "Our new program uses PR techniques to get the word out and drive traffic to the website to look at their videos."
Once at the website, the company recommends breaking the video into short chapters:
"Organizing marketing videos into chapters on the website also provides a big advantage. Sometimes a potential customer is keenly interested in one or two subjects in your video, they are his decision points. Providing him with shorter chapters on specific subjects allows him to go to the exact information he needs if he chooses not to watch the entire video, of course the option to view the full video on the website is also available."
Marketing videos continue to be a big weapon in a company's sales arsenal. Brek Manufacturing of Los Angeles, CA could not break through the barriers at a potential customer's facility. Brek made its first sales video and sent it to the customer. The next week a representative called and placed a large order. "They had no idea of our real capabilities until they actually saw them on video," explains Gene Price, Brek CEO.
Sales videos have traditionally offered companies a unique way to beef up their sales and access to see new customers. "Only video can show your capabilities, make a perfect presentation each time, take advantage of your best presenter (usually the company CEO), and put your satisfied customers through testimonials on the desk of your customers," adds Apgar. "In this economy it takes an edge just to survive."
In the past, John Apgar has had two types of clients: PR and Video. The idea of using PR techniques to boost video viewing came when Apgar saw the effect of PR releases boosting sales. "The purpose of video and PR are the same, to boost sales. Using PR to help move traffic to view marketing videos is simply taking advantage of business synergy."
John Apgar Productions is a full service video production and public relations company located in Chino Hills, California. The company began service in 1982 and has produced videos for more than 100 clients ranging in size from small job shops to the Fortune 500. The company has produced marketing videos, training videos, public relations videos, and television news features.
For more information: contact John Apgar at John Apgar Productions, 15221 Aqueduct Lane, Chino Hills, CA 91709 or email John(at)Johnapgarproductions(dot)com; or call 909-393-1776; or visit the web site at http://www.Johnapgarproductions.com
###