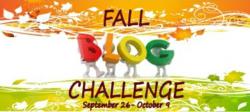 We hope that this Fall Blog Challenge will be a great motivation boost for site members who don't want to 'fall' into a diet and fitness slump once Summer is over." - Bailey Apple, Diet.com's Marketing & Community Manager
Brookline, MA (PRWEB) September 21, 2011
Diet.com, one of the web's leading resources for diet, fitness, and nutrition content and tools, will host an online Blogging Weight Loss Challenge this Fall, with prizes valued at over $1,100.00 to be awarded to winners who blog daily and drop pounds.
Diet.com's Community hosts a number of Weight Loss Challenges annually, but this will be the site's first blog-focused Challenge. Participants will be challenged to post to their Diet.com blog everyday of the contest's 2-week duration (Monday, September 26 - Sunday, October 9), as well as lose up to 5 lbs.
"A lot of times the end of Summer can make people feel like, 'I'm layering up, I'm covering up my body, I guess I can stop worrying about my weight now,'" says Diet.com's Marketing and Community Manager, Bailey Apple, who oversees the operations of the site's Weight Loss Challenges. "But the truth is that your health comes with you when the seasons change, and there's no season where you should abandon your health and your body.
"We hope that this Fall Blog Challenge will be a great motivation boost for site members, new and old, who don't want to 'fall' into a diet and fitness slump once Summer is over."
The basis of the Fall Blog Challenge lies in the idea of accountability as a motivator for weight loss. Apple says, "Journaling and blogging has been shown to increase weight loss success, because it gives the dieter a sense of accountability. With blogging, you're posting to an audience - so you may think twice about eating that unhealthy snack if you know you've got to post in your blog later that you slipped up."
During the Challenge, participants will be encouraged to blog about anything - from their meals to their exercise activity to their goals to their day-to-day successes or setbacks.
"Our Weight Loss Challenges have always been about increasing motivation for our site members - giving them a forum to set goals for themselves and a community to support them as they strive to reach those goals."
The Grand Prize Winner will receive a $200 Visa Gift Card and 1-year Premium Membership to Diet.com (a $139.35 value), while a runner up Challenger will receive a $50 Visa Gift Card and 6-month Premium Membership. A special Social Media Winner will also be awarded a $50 Visa Gift Card and 6-month Premium Membership. Additionally, ten other inspirational Challenge participants will be selected to receive free 6-month Premium Memberships to Diet.com.
The Grand Prize Winner and Runner Up will be chosen based on number of blogs posted (with a maximum of 1 post/day counted towards the Challenge), weight lost by the participant, and Diet.com community/social media activity during the Challenge's duration. The Social Media Winner will be chosen based on social media interaction on the Challenger's blogs during the course of the Challenge (Facebook "likes", Tweets, Google+).
The Challenge will run from Monday, Sept. 26 - Sunday, Oct. 9. Those who wish to participate may sign up for a free Diet.com member account at Diet.com, where they can they begin to post blogs in the Diet.com Community Blog pages. For more details about the Diet.com Fall Blog Challenge head here.
About Diet.com:
Diet.com is a multifaceted health and wellness organization that provides quality information and cutting edge tools and services to consumers and businesses alike. Since its founding, Diet.com has been a valuable online resource for dieters and those seeking information on living a healthy lifestyle. As one of the web's leading resources for diet, nutrition, and fitness content and tools, Diet.com has created a platform where consumers are able to set and track diet and fitness goals, browse over 1,000 healthy recipes, learn new exercises, and interact with others in the thriving Diet.com online community. The diethealth YouTube channel has a library of close to 500 videos, over 107,000 subscribers, and has received upwards of 86 million views. For any inquiries please contact Lauren Alford, Director of Business Development, at LaurenA(at)diet(dot)com or 919-616-7532.
###