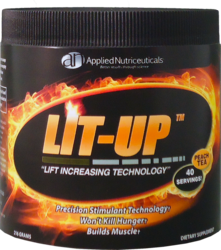 Peach Tea LIT-UP tastes exactly like your favorite brand of peach tea - it tastes absolutely amazing.
Charlotte, NC (PRWEB) September 20, 2011
Applied Nutriceuticals, a dietary supplement manufacturer targeting fit and health conscious individuals, launches new dietary drink supplement flavor, Peach Tea. As the second flavor within their LIT-UP line, Peach Tea hopes to follow the success of the original Cherry Citrus flavor when it is featured September 15-18 at the Olympia competition in Las Vegas, Nev.
"Peach Tea LIT-UP tastes exactly like your favorite brand of peach tea - it tastes absolutely amazing. And the feeling you get from it is unlike any other pre-workout on the market today," says Marketing Director Alyson Tagliaferri.
The ultra-concentrated pre-workout powder delivers the perfect amount of energy, focus and pump without the strung out feeling and loss of appetite that results from competitor's products. LIT-UP burns excess body fat as it gives an extra pump to a workout allowing users to get the best work out possible achieving maximum gains.
LIT-UP is clinically proven to trigger dramatic increases in testosterone levels due to the full dose of D-Aspartic Acid within the powder mix. As a result, users will see better neuromuscular strength, mind-muscle muscle connection enhancement and increased libido. The lab-proven ingredients create a synergism between the Hydrogen Sulfide and Nitric Oxide pathways allowing for better nutrient flow to target muscle tissue as well.
What sets LIT-UP off from its competitors is the 100% natural stimulants promote clean, crisp energy for working out without shutting down hunger afterwards rather than wiring users up leaving a stomach in knots. LIT-UP also has a pronounced mood enhancing effect increasing focus without over-stimulating the central nervous system.
For a limited time only from 9/20/2011 – 9/27/2011, LIT-UP Peach Tea will be available at a 40% discount with the promo code PRPT911 at appnut.com
About Applied Nutriceuticals
Founded in 2006, Applied Nutriceuticals applies the most advanced technology and research techniques to continuously pioneer the most effective products in the supplement industry. Their mission is to develop, manufacture and market high-performance nutritional supplements that deliver safe, consistent and measureable results while never forgetting their primary purpose for existing: to serve their customers. Every product is made in their state-of-the-art cGMP facility and is tested by its own chemist and formulator to be packaged and shipped from the warehouse located in Charlotte, NC. When consumers see their logo on any of their products, they know without a doubt it is everything they claim.
Contact:
Alyson Tagliaferri
(704)509-5999
Alyson(at)appliednutriceuticals(dot)com
###