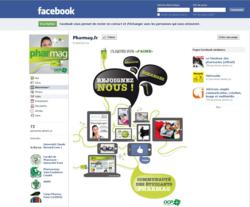 nous adaptons nos services pour être en phase avec vous, étudiants, toujours en quête de nouveautés… Il faut suivre… Mais, c'est notre pari au quotidien
Saint-Ouen (PRWEB) 19 Septembre 2011
Depuis plus de 10 ans, Pharmag une marque de l'OCP est un partenaire fidèle des étudiants en pharmacie.Très à l'écoute des attentes des étudiants, Pharmag a toujours su innover à travers des actions menées tout au long de ces années comme la planification de petits déjeuners dans les facultés de pharmacie, des jeux-concours, la 2ème édition de la bourse humanitaire 2011 d'un montant de 5 000 euros, une présence régulière sur les Assemblées Générales de l'Association Nationale Étudiants en Pharmacie de France...
Pharmag by OCP arrive sur facebook. C'est une montée en puissance de la communication digitale pour répondre aux attentes des étudiants en pharmacie, c'est le tournant pris par l'OCP pour cette rentrée universitaire.
Un site pharmag.fr plus riche en actu, une page facebook pour être en lien direct avec les facultés.
Au programme : des actus, des jeux, des appels à création… Toujours soucieux d'être proche des étudiants en pharmacie, nous adaptons nos services pour être en phase avec vous, étudiants, toujours en quête de nouveautés… Il faut suivre… Mais, c'est notre pari au quotidien selon Isabelle Thrierr.
Contact média
Marine Plantier
01 49 18 75 25
marine(point)plantier(arobase)ocp(point)fr
This is a test release that we have published for product development to test PRWeb France. The content was added from the Datapresse network.
###