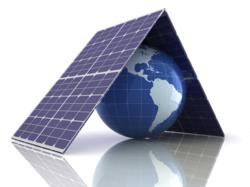 Economic, environmental and social.
Baton Rouge, LA (PRWEB) September 20, 2011
This week, Renogy signed a supply contract with Solar States to install 30kW of solar panels onto the rooftop of Finanta, a financial firm's north Philadelphia headquarters. This installation will support 100 percent of the building's energy needs. This partnership will help Finanta, a financial education and community lending organization, go green and bring better service to entrepreneurs and small business owners in Philadelphia.
Located just blocks from Finanta in Philadelphia's South Kensington neighborhood, Solar States stands as Philadelphia's leading solar power purchase agreement provider (PPA) currently serving the northeast United States. They offer a zero cost Power Purchase Agreements (PPA), guaranteeing a reduction in utility prices over a 15 – 25 year term. Solar States has expertise working with commercial, government, and school based solar PPAs.
Solar States founder Micah Gold-Markel decided to partner with Renogy after a visit to their manufacturing facility this fall. The partnership makes Solar States the official east coast US supplier of Renogy solar panels.
"I've seen the manufacturing process with my own eyes and can personally attest to the quality of the build. From growing silicon and forming ingots, to laser slicing wafers, wiring the wafers, and panel assembly, Renogy is a vertically integrated manufacturer. This means I got to see the whole process, from start to finish, all at a single location," Gold-Markel said.
Renogy's vertical integrating not only guarantees a high quality product but also a cost reduction during each step of production. This attests to Renogy's goal of making solar more accessible to everyone. By partnering with Solar States, Renogy expands not only its own brand but its commitment to creating a more responsible, greener planet.
"Strategically, teaming up with Solar States on the east coast is a very important milestone for us," said by Yi Li, president of Renogy. "We respect that Solar States is dedicated to educating and training the next generation about solar, because Renogy shares the same commitment to social entrepreneurship and building a more economically, environmentally better society."
"We appreciate Solar States' partnership and I believe both sides are looking forward to long term collaboration. It's our first time to use all black framing mono crystalline panels in a project on the east coast, which are aesthetically sleek besides excellent performance. We expect to have more utility scale projects built with Renogy panels, such as the 5MW project in pipeline in Massachusetts. With the help of Solar States' distributing network, Renogy will serve more and more residential and commercial owners in the near future. Together we will make solar simple, more affordable, and accessible."
About Solar States
Solar States is a leading solar power provider, breaking down the barriers of solar energy by providing power purchase agreements, eliminating all installation costs for its clients. Solar States' innovative business model, which allows a zero dollar, 25-year lease, will greatly benefit its customers by significantly reducing power rates over the long term. Interested customers please call 888-895-8756 or go to http://www.solar-states.com.
About Renogy LLC
Renogy is a global producer and distributor of solar panels. With a vertically integrated manufacturing process, producing everything from solar ingots to solar modules, Renogy specializes in developing turnkey PV projects and delivering the most reliable and cost effective solar energy solutions on the market today. By strategically partnering with leaders from different industries, Renogy creates added value for its clients. Renogy's state-of-the-art production of top quality solar cells and the use of superior accessories enable them to produce high performance solar modules that maximize the energy yield of the solar system per unit area. Customers interested in learning more about Renogy's panels can visit http://www.renogy.com.
###