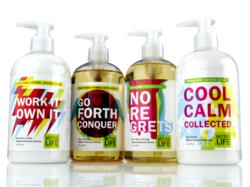 Except for very high priced items, typically consumers did not have an affordable option for soaps and lotions that aren't filled with irritants such as sulfates, fragrances, and triclosan. Better Life has decided to diversify it's product line to provide
Saint Louis, Missouri (PRWEB) September 19, 2011
Better Life, known for its high performance, completely safe, natural household cleaning products, will be unveiling its new line of natural soaps and lotions at the Natural Products Expo East, the east coast's largest trade show for the natural, organic, and healthy products industry. These sulfate free soaps blend plant derived cleansers and organic botanical extracts to make a gentle and effective natural product that is safe for your skin, while being safe for the environment. The lotion is packed with nutrient-rich, plant-derived hydrators that moisturize dry skin. Better Life soaps and lotions contain NO Triclosan, SLS or SLES, synthetic fragrance or dyes, parabens or phthalates so they are safe for children to use. And as with all of their products there is never any animal testing.
Founded by two dads who were determined to get the toxic chemicals out of their homes, Better Life makes the safest and most effective cleaning products on the market. The entire line of products, from their green, general cleaners to their specialty surface products, blends highly specialized surfactants made from sugar, starch, and amino acids - all safe stuff. There are never sulfates, ethoxylates, fragrances, dyes, or volatile organic compounds (VOCs) such as glycol ethers and alcohols in their products. Because there is not the toxic residue left behind by conventional cleaning products, Better Life is safe to use on the surfaces that children and pets spend the most time on.
Co-founder and chemist, Kevin Tibbs, expressed his frustration with his use of other "green" cleaning products, "It bothered me that warning and caution statements still remained on the label and these "green" products contained many of the same harsh chemical ingredients found in the traditional products." This frustration inspired him and co-founder, Tim Barklage, to create high performance cleaning products that were completely safe: Safe for the family, pets, and the planet.
Tibbs, who spent the majority of his career prior to Better Life formulating personal care products says, "Except for very high priced items, typically consumers did not have an affordable option for soaps and lotions that aren't filled with irritants such as sulfates, fragrances, and triclosan. Better Life has decided to diversify it's product line to provide an affordable, yet effective solution."
Better Life was formed in 2008 out of a life–long friendship between Tim Barklage and Kevin Tibbs. As parents, they simply wanted products that would be good for their kids, your kids, and our planet. Through creativity, innovation, and a touch of whimsy, Better Life brings consumers household and personal care products which are unmatched in safety and unbeatable in performance. Better Life develops
###