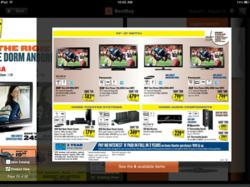 San Francisco, Calif. (PRWEB) September 19, 2011
TheFind, developers of the CATALOGUE by TheFind App, the popular and critically acclaimed shopping app for iPad, announced it is adding weekly inserts to its vast collection of shopping catalogs. Starting today, Best Buy's weekly inserts will be delivered via the app directly to shoppers. These inserts will continue to be included in Sunday newspapers, digitally on the web and mobile at BestBuy.com, and available in Best Buy stores nationwide, in addition to the app. CATALOGUE by TheFind is the first and only app to deliver weekly inserts directly to iPad users.
Inclusion of Best Buy digital inserts is a significant first as millions of consumers will now be able to flip through Sunday newspaper circulars from national retailers right on their iPads. For additional convenience, iPad users can buy directly by clicking out from the weekly insert to BestBuy.com for product delivery or convenient in-store pick up at the nearest Best Buy store. Catalogue by TheFind is one of the top downloaded lifestyle apps on iTunes and now boasts more than 160 popular catalogs from retailers like Crate & Barrel, Williams-Sonoma, Nordstrom, Ballard Designs and others.
"We are thrilled to partner with TheFind to bring our weekly deals to a new audience through this tablet app," said Alix Hart, senior director of Digital Marketing at Best Buy. "We will continue to look for new ways to connect with our customers wherever and however they're looking to shop, learn and find the right technology to fit their lifestyle."
"As consumers increasingly opt to receive their weekend paper digitally, retailers have been presented with a significant challenge in delivering targeted local advertising," said Siva Kumar, CEO of TheFind. "CATALOGUE by TheFind offers an opportunity to provide both shoppers and retailers with what they want and need--timely offers from trusted retailers that are delivered automatically to their iPad."
In addition to the Best Buy weekly inserts, TheFind also announced new usability features as part of the update, including the ability to search for specific catalogs and the ability to search TheFind's entire index of 500,000 stores and 450 million products.
The Catalogue by TheFind App includes more than 160 popular catalogs from retailers like Crate & Barrel, Williams-Sonoma, Nordstrom, Ballard Designs and others.
The CATALOGUE by TheFind App is available for free from the App Store on iPad or at http://www.itunes.com/appstore/.
About TheFind
TheFind makes it easy to shop, for anything you like, in every store, all at once. Made possible by patented search and discovery technology, TheFind is the fastest growing top-tier shopping engine and the one people return to more than any other according to comScore's measure of comparison shopping engines. Ranked number 12 on the 2010 Inc. 500 list of fastest growing private companies, TheFind was founded in 2005, has been profitable since late 2008, and was venture funded by Bain Capital Ventures, Lightspeed Venture Partners and Redpoint Ventures. TheFind is a San Francisco and Silicon Valleybased company.
###