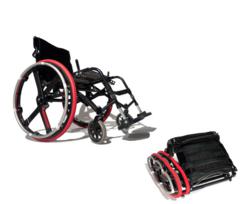 Just like all Maddak products, a foldable wheel has the ability to increase the user's independence while making life a little easier.
Pequannock, NJ (PRWEB) September 23, 2011
Common wisdom states you shouldn't waste time reinventing the wheel. "But what if reinventing the wheel could have a significant impact on someone's independence?" When the Product Development team at Maddak Inc., manufacturer of Aids for Daily Living, considered that question and realized the answer was a resounding yes, they knew they had to take on the commercial development of the first ever foldable wheelchair wheel. Kathleen Hanek, Director of Product Development tells us, "Among other things, a foldable wheel will enable wheelchair users to get their wheelchair and wheels into and out of a car with greater ease, to pack an extra set of wheels in a suitcase when travelling, and to potentially even keep their wheelchair inside the cabin of a plane instead of in stowage. In other words, just like all Maddak products, a foldable wheel has the ability to increase the user's independence while making life a little easier."
Originally conceptualized by Duncan Fitzsimmons, a graduate of the Royal College of Arts in London, England, Maddak licensed the worldwide manufacturing and distribution rights to the patent pending foldable wheel in February of 2011. The folding feature of the wheel sets it apart from all other wheels on the market, including high end wheelchair wheels. After the wheel is disconnected from the frame it can be folded into a compact form for easy transport or storage. "Wheelchair users will no longer be constrained to a certain car/van based on the ease of transferring the wheelchair and the wheels into the car anymore. And, they'll be able to travel in other people's cars with greater ease," declares Hanek.
"Maddak has a long history of serving the disability community," states Hanek, "and we are excited to be working with Duncan on bringing such a useful and valuable product like the foldable wheelchair wheel to market. We have done extensive research and have been tapping into the thoughts, insights and needs of the wheelchair community to gain knowledge about their current wheels, features that are important to them and unfilled needs."
An email survey conducted by Maddak and sent to readers of New Mobility, a magazine geared towards active wheelchair users revealed that 80% of the participants either (1) thought the foldable wheel would make their lives much easier or (2) were interested in learning more about the concept. In a focus group of very active wheelchair users 100% of the participants believed that a foldable wheel would have a positive impact in their life. And, in a later series of focus groups that included caregivers and service providers as well as wheelchair users, 76% responded that they would buy/recommend the foldable wheel.
"The feedback we are receiving from the wheelchair community is invaluable," says Hanek. "We are still in the design stage and the concerns and suggestions brought up during the focus groups are being addressed so that when we launch the wheel in September of 2013 it is as user friendly as possible."
To take the foldable wheelchair wheel survey, see a photograph of the prototype and to get updates on the project please visit our website – http://www.maddak.com/foldable_wheelchair_wheel.php?osCsid=5b0748812c6a47c151e42a3d63a50fd3. For additional product information, a copy of our latest catalog or a list of local dealers write, call, fax or email: Maddak Inc., 6 Industrial Road, Pequannock, NJ 07440-1993, Tel: 973-628-7600, Fax: 973-305-0841, Email: custservice(at)maddak(dot)com or visit the Maddak web site – http://www.maddak.com.
About Maddak
Maddak Inc. manufactures products that simplify the tasks of daily living – eating, drinking, dressing, grooming, bathing, toileting, etc. – for seniors, people with disabilities and people undergoing rehabilitation. The company mission is to provide quality products that enable people to maximize their independence and remain active despite any limitations they may face. Marketed under the Ableware® brand name, the Maddak product line includes over 500 products sold through medical and hospital supply centers, pharmacies, homecare centers and internet outlets. Established in 1971, Maddak Inc., headquartered in Pequannock, NJ is the largest U.S. manufacturer of assistive devices, clinical modalities, home healthcare and rehabilitation products.
###