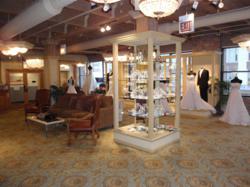 Industry Consultant Dale Buziecki said, "The trunk shows provide a unique, custom experience for the bride."
Chicago, Illinois (PRWEB) September 21, 2011
House of Brides Couture is located in the River North neighborhood at 730 North Franklin Street, Suite 300, Chicago, Illinois. The trunk shows will showcase the A llure Bridals and Saison Blanche 2011 collections, which will be on display for customers to view and try on. Special incentives are often offered during the trunk shows.
Designers and retailers use trunk shows to preview and feature a collection. The term "trunk show" was coined from designers transporting their wedding dress samples in steamer trunks to studios.
House of Brides Couture was originally located on Michigan Avenue in the popular shopping district. The salon later moved to its current location in River North. President Eva Buziecki said, "House of Brides Couture moved so our customers could get an exclusive shopping experience. The River North neighborhood offers boutique shopping without the tourist attractions of Michigan Avenue."
The salon is located at the corner of Franklin and Superior Avenues. As Brides enter the doors, they are presented with a vast showroom. The showroom has a loft feel with exposed brick and ductwork. The salon has a boutique feel with Gold tones and luxurious decor. Couture wedding dresses, jewelry and accessories are all on display with seating and staging areas on the perimeters of the showroom. A large bridesmaid and special occasion department is located at the back of the store.
Trunk shows are exclusive events where wedding dress samples are on display and are available for brides to view and try on. House of Brides specializes in Couture, exclusive and one-of-a-kind bridal gowns. Customers are catered to and served champagne and Hor d'oeuvres while shopping. The shows are by appointment only to ensure brides are given the ultimate experience with an expert sales consultant. Industry Consultant Dale Buziecki said, "The consultant gives the bride beginning to end involvement and expertise. The consultant dresses the bride from head to toe for the complete bridal look. They also provide advise on the best silhouettes, designers and accessories for each customer. The trunk shows provide a unique, custom experience for the bride."
The Allure Bridals 2011 collection will be highlighted at the trunk show scheduled October 7th – 9th. The Couture wedding dresses are from Allure Bridals, Allure Couture, Exclusive Bridals by Allure and their Limited Edition collections. Allure is renowned for its elaborate design, attention to detail and the use of Swarovski Crystals. Styles range from trumpet skirts to ball gowns. Gowns are orderable in sizes 2 – 16 and plus sizes 18 – 32.
The Saison Blanche trunk show is October 21st - October 23rd and will include wedding and bridesmaid dresses. The 2011 collection will be featured as well as popular styles from previous seasons. Saison Blanche was founded in 1993 on a smaller scale. Through the years, it introduced Couture and bridesmaid collections. The wedding dresses offer rich fabrics, traditional to contemporary styles, hand beaded work and an emphasis on craftsmanship.
House of Brides trunk shows are by appointment only. The Allure Bridals Trunk Show is October 7th – 9th and the Saison Blanche Trunk Show is October 21st – 23rd. Both shows are available at the Couture salon in Chicago. Customers may call the salon at 312-475-0500 to arrange for an appointment.
To view House of Brides ads in upcoming shows, visit the website at http://www.houseofbrides.com/TrunkShows.aspx
About House of Brides:
House of Brides established its first brick-and-mortar store in 1929 and has since grown to 10 Chicagoland stores and global E-Commerce website, http://www.houseofbrides.com. Millions of Brides and their wedding parties visit our salons and global website for over 30,000 wedding and special event products.
# # #