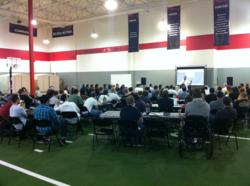 "We're proud of what we've created at Infusionsoft and we're excited to have the opportunity to share our culture with the local business community during the Culture Tour"
Gilbert, Ariz. (PRWEB) September 19, 2011
Culture is a company's most valuable asset, according to Clate Mask, co-founder and CEO of Infusionsoft, the leader in sales and marketing automation software for small businesses. The philosophy at Infusionsoft is your competitors can knock off your products, replicate your process and steal your customers, but they can't steal your culture. Your culture attracts the right people, ejects the wrong people, and helps guide a company's path to success.
In partnership with BestCompaniesAZ, Infusionsoft will be the first stop in the statewide Most Admired Companies Culture Tour. Infusionsoft's 30,000 square-foot converted warehouse features an indoor football field, basketball court, reading room and much more. During the event Infusionsoft's Co-founder and VP of Customer Service Scott Martineau will share workplace culture tips that helped Infusionsoft go from a struggling start-up to a multi-million dollar company and five-time Inc. 500/5000 winner.
"We're proud of what we've created at Infusionsoft and we're excited to have the opportunity to share our culture with the local business community," says Martineau. "We have a great time here, but we also work really hard to deliver world-class products and services to our customers. It's not unusual to see employees shooting hoops or scoring touchdowns. We trust our employees to get the job done and always exceed expectations."
This year Infusionsoft and 59 other local businesses took home the title of 'Arizona's Most Admired Companies' by BestCompaniesAZ and Arizona Business Magazine. The statewide program recognizes companies for excellence in four areas: workplace culture, quality leadership, social responsibility and customer opinion. The Most Admired Companies and other local businesses are invited to attend the Culture Tour events. The next Culture Tour will be hosted by Goodmans Interior Structures and McMurry on Nov. 9. Ollie the Trolley will transport attendees from one award-winning company to another, where both Goodmans and McMurry will share tips on "How to Find Your Culture Advantage."
"We've always been impressed with Infusionsoft's commitment to create and sustain a unique workplace culture," said Denise Gredler, owner of BestCompanies AZ. "You can feel the energy and excitement as soon as you walk through the doors. It's contagious and their story of success is inspiring."
EVENT DETAILS:
When: Sept. 23, 12 p.m. to 2:00 p.m.
12 p.m. check in
12:15 p.m. tours
1:00 p.m. lunch and networking
Where: Infusionsoft, 2065 W. Obispo Ave. Suite 103, Gilbert, AZ 85233
Cost and registration: A free, light lunch will be served. Register here.
About Infusionsoft
Infusionsoft is the leader in sales and marketing automation software for small businesses. Designed for marketers who have outgrown basic email autoresponder or contact management systems, Infusionsoft is powerful software that combines CRM, email marketing and e-commerce with automated follow up into one efficient, easy-to-use system that helps small businesses nurture and convert leads, grow sales and save time. Infusionsoft has a rapidly growing customer base of more than 7,000 customers and 23,000 users. For more information, visit http://www.infusionsoft.com.
About BestCompaniesAZ
BestCompaniesAZ, founding partner of the Arizona's Most Admired Company Program, provides a unique mix of branding, human resources, marketing/public relations and organizational programs designed to "Recognize Best Companies of Today and Build Best Companies for Tomorrow." BestCompaniesAZ's primary focus is to identify, develop and promote the BEST companies in Arizona. IDENTIFY through strategy development, award consultation, and the Arizona's Most Admired Companies Program; DEVELOP through Best Practice Education Forums and Cultural/HR Assessments; and PROMOTE by linking client's HR, PR, Marketing & Recruitment Strategies under one PR package. BCAZ's goals are to leverage their partners BEST status to increase their visibility, reduce costs, and align their employment and product branding goals. BestCompaniesAZ.com
# # #