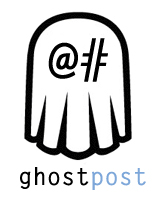 Create enthusiasm for your brands or products using social media!
Hollywood, CA (PRWEB) September 21, 2011
Ghost Post, a social media marketing agency, will host the final event during Social Media Week entitled, "Fade to Black: Social Media Week Recap." Social Media Week is a global convention on social marketing and emerging media that will be taking place this week throughout Los Angeles. In addition to Chicago, Los Angeles is only one of two U.S. cities participating in Social Media Week.
The unofficial closing event will take place at the exclusive Foundation Room, inside of the House of Blues in West Hollywood this Friday, September 23rd at 7:30pm. Speakers at the event include representatives from @PopChips, @TheCoffeeBean, @HOBsunset, @MayhemStudios and other surprise guests. "Our speakers do a tremendous job of creating enthusiasm for their brands or products," said Daniel Abas, CEO of Ghost Post. In addition to learning about the successful strategies these companies utilize to strengthen their brand identities, the event will also serve as a fertile networking opportunity.
Speakers from Nokia, Myspace, Facebook, Hershey, Samsung, K-Swiss, and Frontier Airlines will be in attendance throughout Social Media Week. "We're expecting a blend of key executives, hiring managers, social media influencers and even a few hungry zombies at our event." Abas added, "Our 'Fade to Black' event is a great place to learn, connect, and socialize with industry leaders, plus we're going to be giving away some awesome goodies." All guests must register at Ghost Post's official event page and space is limited to 300 guests so prompt registration is encouraged.
Fade to Black: Social Media Week Recap
Register at: http://ghostpost.info
Hashtags: #ghostpost, #fadetoblack, #SMWLA, #SMW11
About Ghost Post:
Ghost Post (http://www.ghostpost.com) is a subscription based social media marketing service providing an affordable, personal and effective solution for businesses that are looking to strengthen their online identity and brand awareness.
About:
CEO & Founder Daniel Abas, MBA, (@dannyabas) a serial entrepreneur and native of Los Angeles blends media, technology and professional services to form online companies on a global scale. He is also the owner of Red Butler, a global concierge company that provides corporate concierge services to Fortune 500 corporations and affluent professionals.
Ghost Post
8383 Wilshire Blvd., Ste. 830
Beverly Hills, CA 90211
888.411.9724
http://www.ghostpost.com
http://twitter.com/ghostpost
http://facebook.com/ghostpost
###