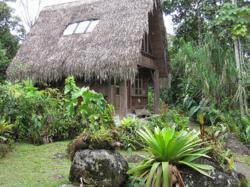 It's unbelievable that you can get such a rich, natural experience just a couple of hours outside of a major city like Quito. We left the city in the morning, and by mid-morning we were already bird watching in the lush cloud forest
Encinitas, California (PRWEB) September 20, 2011
Global Basecamps, a sustainable travel company based in Encinitas, CA, features some of the most unique and sustainable lodges in the world. El Monte Cloud Forest Lodge is a recent addition to their rapidly expanding list of eco lodge partners. El Monte's environmental philosophy is in line with Global Basecamps viewpoint on ecotourism, making for an ideal collaboration. Located in Mindo, Ecuador in one of the most biologically diverse yet endangered cloud forests in the world, El Monte has many initiatives in place to help protect the forest and keep the impact of tourism to a minimum.
Guests stay in private riverside cabanas surrounded by moss covered trees, crystal clear streams, spectacular orchids, and exotic birds. El Monte has chosen to stay small, and thus avoid expansion as their belief is that there should be a certain ratio between guests at the lodge and the amount of land owned. Only 2.5 acres of the El Monte Reserve is used for the lodge, garden, and cabanas, while the rest is open for nature walks and bird observation. As part of their efforts to preserve and protect the natural beauty of Mindo, El Monte founded the Mindo Biological Station, which protects over 6,000 hectares of Primary Cloud Forest.
El Monte's garden is all hand worked, which not only provides jobs for those from the local community but also eradicates the need for tractors. Also, kitchen wastes are composted and recycled back into the garden. A spring feeds water down to the lodge and cabanas providing fresh water and eliminating the need for a pump. As another sustainability initiative, lighting at the main lodge comes from 2 solar panels, kerosene lanterns and candles, while a micro hydro electrical system provides lights for the individual cabanas. All of these projects help minimize the lodge's impact on the forest and help create a truly unforgettable lodging experience ideal for any Ecuador tour.
All activities at El Monte are led by local Mindo guides, creating a more authentic experience. Global Basecamps feels a stay at the El Monte Cloud Forest Lodge is a perfect addition to clients' Ecuador travel itineraries. "It's unbelievable that you can get such a rich, natural experience just a couple of hours outside of a major city like Quito. We left the city in the morning, and by mid-morning we were already bird watching in the lush cloud forest," said Andres Zuleta, who visited the lodge in May. Guests get to El Monte by "tarabita", or hand pulled cable car, creating a very secluded feeling at the lodge. The main house includes the kitchen, dining area, game area, a bar, and 2 open fire pits. The majority of the lodge is open air, with views of the surrounding cloud forest. Each cabana has a bathroom (with hot water), sitting area, and a bed or beds. The cabanas, constructed from local materials, sit along the beautiful Rio Mindo.
Global Basecamps is a specialty travel resource designed to simplify the process of researching and booking sustainable hotels, lodges and private tours worldwide. Allowing independent travelers to journey at their own pace and ensuring trip priorities are met while keeping maximum flexibility on the road, Global Basecamps truly makes exploration easy. Please visit http://www.globalbasecamps.com.
MEDIA CONTACT: Ali Dempsey, Global Basecamps, (866) 577-2462, Ali (at) globalbasecamps (dot) com
###